Goalkeeper Dang Van Lam blocked a penalty and made a number of brilliant saves as Vietnam played out another goalless draw against Thailand on matchday six of the 2022 World Cup Asian qualifiers round two in Hanoi last night
Despite their ball possession, Vietnam could not convert any of their opportunities into a goal and should have trailed behind in the 28th minute, but goalie Van Lam made a brilliant save, getting down to use his left foot to push away Thailand's shot.
Vietnam were denied a goal three minutes later, as Tien Dung headed past the Thai goalkeeper, but his goal was disallowed as the referee decided that Doan Van Hau had fouled the goalkeeper.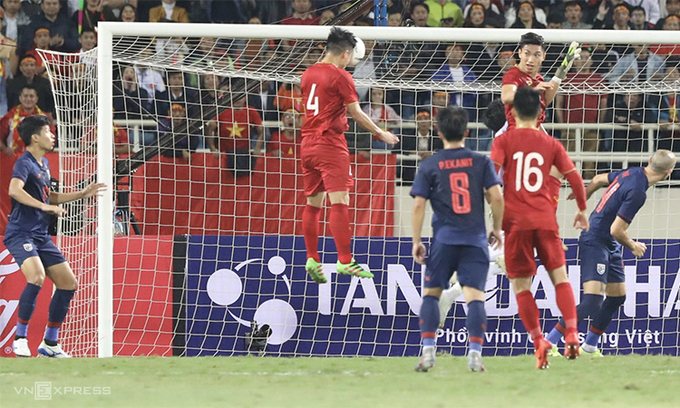 Tien Dung heads past the Thai goalkeeper, but his goal is disallowed. (Photo: vnexpress.net)
Narubadin missed a chance to gift Thailand an opener before halftime with a strike towards the right side of the net.
Five minutes into the second half, Vietnam were denied a goal for the second time, with Van Hau heading the ball to Tien Linh to shoot past keeper Kawin Thamsatchanan, but the goal was disallowed again as Van Hau was ruled offside.
Van Toan came close to opening the scoring for Vietnam in the next two minutes with a volley over the crossbar.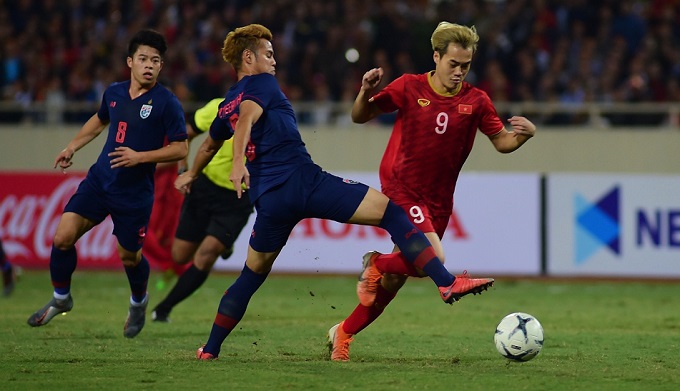 Vietnamese forward Van Toan (R) in action during the match. (Photo: NDO/Tran Hai)
With time running out, Keeper Van Lam rescued Vietnam twice by blocking Phitiwat's left-footed strike in the 78th minute before saving Theerathon's annoying corner-kick five minute later.
Despite the goalless draw, Vietnam remained on top of Group G with 11 points, three clear of third-placed Thailand and two above second-placed Malaysia, who crushed Indonesia with two unanswered goals on the same day.
Next up for Vietnam will be an away clash against Malaysia on March 31, 2020, while Thailand will host Indonesia on March 26.

Group G standings after matchday six of the 2022 World Cup Asian qualifiers.
Vietnamese national team receive large bonus from VFF
Following the Vietnamese national football team's strong performance against Thailand, the Vietnam Football Federation (VFF) announced their decision to present the squad with a cash bonus of VND800 million on November 20.
As a result, a number of the team's outstanding performers are set to receive a bonus of several hundreds of thousands of Vietnamese dong.
With five rounds of matches played in the Asian zone's second qualifying round for the World Cup 2022, the national team has so far received bonuses totaling VND6.4 billion from the VFF. In addition, a number of outstanding individuals have also been awarded VND1 billion by local enterprises.
Of the figure, head coach Park Hang-seo was presented with VND400 million, while goalkeeper Dang Van Lam received VND100 million following a magnificent display against Thailand on November 19 during which he saved a penalty.
Previously, forward Tien Linh had received a personal bonus of VND300 million after his wonderful strike secured three points against the UAE on November 14. Vietnam's midfield maestro Quang Hai also secured a bonus of VND200 million after bagging a goal against Malaysia on October 10.
With over half of the fixtures played during the qualifying campaign, Vietnam are ranked first in Group G, with a further three matches still to play.
The Vietnamese national team's next tie will be an away fixture against Malaysia on March 31, 2020. If Vietnam are able to win the match, they will have a chance at progressing to the continent's final qualifying round for the first time in their history. 
Nhan Dan/VOV

Vietnam tied goalless with Thailand in their second leg in the 2020 World Cup qualifiers at My Dinh Stadium in Hanoi on November 19.

The Vietnamese squad, coached by Park Hang-seo, were among the six best performers in the first leg of the 2022 World Cup Asian qualifiers round two and are currently full of hope for a place in the final qualification tournament.