To many Vietnamese ballet fans, Meritorious Artist Dam Han Giang is popularly known as Vietnam's "Ballet Prince".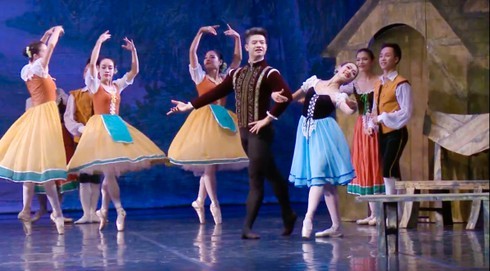 Artist Dam Han Giang and his colleagues in a performance.
Working as an artist of the Vietnam Opera and Ballet Theater, Giang also gives lectures at the Hanoi Academy of Theatre and Cinema and runs a ballet center for children  from age 6.
Born in 1986, Giang started learning ballet when he was only 6 years old. When he was 19, Giang studied ballet in Hong Kong, China, and then turned down an invitation to work there in order to return to Vietnam. In 2016, Giang  became the youngest ballet dancer in Vietnam to be granted the title of "Meritorious Artist".
"I was born  to a family steeped in the arts. My father is a ballet dancer and I started learning ballet since I was little with the encouragement of both my parents. I really love ballet as I find all the movements beautiful and romantic while its music is amazing. I'm happy to be a ballet dancer," Giang told VOV. 
Dam Han Giang is known as the ballet prince as he often takes the role "prince" in famous ballet performances. Ballet is a theatrical dance with highly demanding techniques which require high-quality artistic training, said Meritorious Artist Tran Ly Ly, Director of the Vietnam Opera and Ballet Theater.
"I really respect artists like Dam Han Giang who has wholeheartedly dedicated himself to developing Vietnamese ballet. Giang is a talented ballet dancer who satisfies both requirements of height and physical shape for a proper ballet dancer," said Ly.
With an innate  love for  dance, Giang joined his colleague Dinh Huong to open the Hanoi Kids Art Center to provide Vietnamese children with proper training in ballet.
Hanoi Children's Art Center was Vietnam's only representative in the dance category at the 2018 Asia Arts Festival in Singapore. The performance of "Carmen" by young artists from the Center surprised the judges and received many compliments for their expertise and won them a silver medal. The center's victory promises more success for Vietnamese ballet in the future.
"Ballet dancing is a very complicated art form that requires high-quality training. Each student must practice very hard and with consistency. The teacher has to be patient and keep encouraging his learners while they're practicing," said Nguyen Thi Hoang Ngoc, a teaching assistant at the Hanoi Kids Art Center.
Dam Han Giang said he's happy to see more and more children interested in ballet and dreams of bringing Vietnamese ballet to the world in the near future. VOV

Dien Bien province is home to about 6,000 Dao people of the Red Dao, Dao Quan Chet, and Dao Khau branches. The Dao observe many religious and cultural ceremonies and festivals.

The northern province of Yen Bai will not seek Guinness World Record recognition of a performance of Xoe dance involving 5,000 people as initially planned.