The first fish sauce museum in Vietnam is now fully open to visitors in Phan Thiet city, in the central province of Binh Thuan.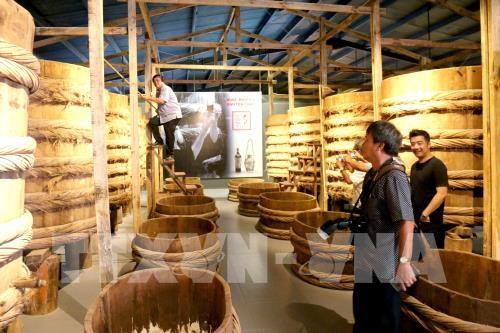 Visitors inside the museum 
The first fish sauce museum inVietnam is now fully open to visitors in Phan Thiet city, in the centralprovince of Binh Thuan.

Spanning 2,000 sq.m, the museum consists of 14 exhibition spacesthat reenact changes in the Phan Thiet fishing village over 300 years.

Visitors can try becoming a fisherman, discover the originof fish sauce, and enjoy the original sauce taste.

When the museum was only partly completed, it had already attracted200,000 visitors in 2017 and 400,000 the next year. The figure is expected toreach 1 million in 2020 and 3 million in 2025.

The facility is a highlight of Phan Thiet's ancient fishingvillage project, which also includes a theatre and an area for localspecialties. Built at a cost of approximately 100 billion VND (4.27 millionUSD) and covering10,000 sq.m, the project saw its construction beginning in2017 and completed in late May 2019.

Ngo Minh Chinh, Director of the provincial People'sCommittee, said the project, a meaningful tourism product, preservestraditional culture of the province and encourages the development of craftvillages. –VNA 

Ninh Binh Museum in the northern province of the same name is an ideal destination for tourists who are fond of historic relics and stories.  

The 56 days and nights of the Dien Bien Phu campaign and the Vietnamese army's heroic struggle against French colonialists are highlighted at the Dien Bien Phu Victory museum.  

Traditional medicine museum debuts in Hoi An