Nguyen Thi Anh Vien, Vietnam's top female swimmer, is set to compete in three events in the upcoming 18th FINA World Championship, which is scheduled to take place in the Republic of Korea on July 12-28.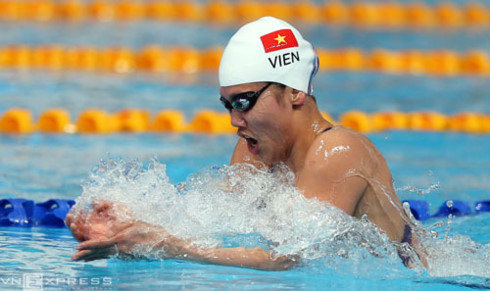 Vietnam's top female swimmer Nguyen Thi Anh Vien
Vien is one of seven Vietnamese swimmers who will compete in the event.
The Can Tho native is the nation's most successful swimmer after winning a total of 19 golds, seven silvers, and two bronze medals, in addition to breaking 11 records at the SEA Games.
She also won two bronze medals at the Asian Games as well as a one silver and two bronze medals during previous FINA World Cup competitions.
Tran Duc Phan, deputy director of the General Department of Sports and Physical Training, said Vien is a key member of the Vietnamese swimming team that will take part in the SEA Games.
She has set a target of winning eight gold medals during the course of the tournament.
At the FINA World Championship in 2017, Vien competed in the 200m and 400m individual medley events with results of 2:13:36 and 4:40:39, failing to win a medal in the process.
The FINA World Championship 2019 will see the participation of 2,623 athletes from 194 nations and territories.
They will compete for 76 gold medals in swimming, diving, water polo, and artistic swimming. VOV