Vietnam's traditional craft villages turn out unique products which promotes the image of Vietnam and its people to the world.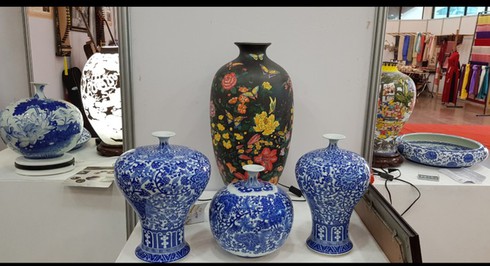 Bat Trang village's ceramic products

Vietnam has some 5,400 craft villages, spanning many different crafts, such as lacquer, ceramics, gold, silver, embroidery, bamboo, rattan, weaving, paper, folk paintings, wood, and stone.
Their handicraft products are diverse in design and quality. Van Phuc silk, Bat Trang pottery, and Dong Xam silver carving have been recognized as national brands.
Dam Tien Thang, Deputy Director of the Hanoi Department of Industry and Trade, said that despite their economic value, the potential of traditional craft villages hasn't been fully tapped.
He said "Hanoi craft villages' annual production is estimated to be nearly 1 billion USD and annual export turnover is approximately 200 million USD a year. So far this year Hanoi has earned about 160 million USD."
No agency or organization is responsible for buying all the products made by traditional craft villages. The villages' brand registration and product designs haven't received due investment and support.
Traditional Vietnamese crafts have weak penetration of high potential markets in the UK, US, France, and Germany. Enhancing cooperation links and joint ventures are important ways for Vietnam's traditional craft villages to integrate more deeply into the world.
Meritorious artisan Nguyen Van Quyen, Chairman and Director of the Hoa Mai Fine Arts Cooperative in Lao Cai province, said "To develop traditional craft villages and sell more products, the Vietnam Association of Craft Villages should work with the Vietnam Cooperative Allliance to design a program to link different trades with each other and take turns organizing exchanges between craft regions. It would be more efficient to hold more market-days where craft village products can be introduced to foreign visitors."
The Government has recently taken steps to help craft villages thrive. A Government decree on developing rural trades and craft villages has prioritized support for traditional handicrafts likely to be lost, craft villages of ethnic minority groups, craft villages with large markets, and craft villages associated with tourism and new rural development.
The "One commune, one product" program has helped many traditional craft villages revive and expand their market. The Vietnam Association of Craft Villages has targeted developing 1 or 2 leading enterprises in each traditional craft village and several leading firms in every key foreign market.
Luu Duy Dan, Chairman of the Vietnam Association of Craft Villages, said "Artisans are the living treasures of a craft village. Our goal is to have 100 quintessential products, 100 typical craft villages, and 100 typical artisans. This will infuse a fresh spirit into craft villages. So far, we have selected 64 typical craft villages." VOV5