Vietnam defeated Thailand 1-0 in extra time to take the title of the ASEAN Football Federation Women's Championships in Thailand after seven years of waiting.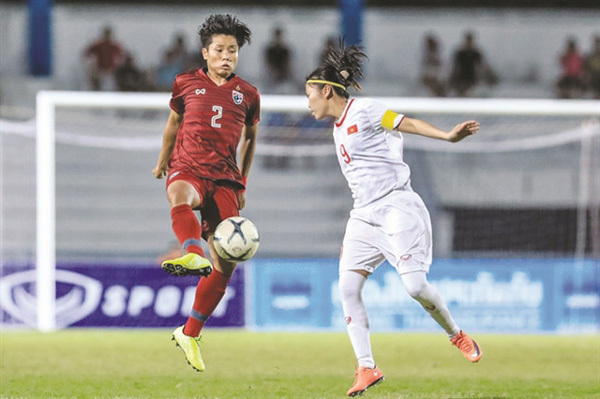 CHAMPS: Vietnam vs Thailand in the final of the ASEAN Football Federation Women's Championships in Thailand on Tuesday. Vietnam defeated Thailand 1-0. — Photo zing.vn
The game was held at the Institute of Physical Education Chonburi Campus Stadium on Tuesday.
Vietnam entered the final as the Group B winners ahead of Myanmar, Indonesia and Cambodia. They defeated the Philippines 2-1 in the semi-final. While Thailand were Group A winners ahead of the Philippines, Malaysia, Timor-Leste and Singapore. They beat Myanmar 3-1 in the other semi-final match.
Despite playing away, Vietnam were very confident from the get-go.
After a pass from the left wing, striker Pham Hai Yen headed home but couldn't beat Thai goalie Jada.
In the 34th minute, Rattikan Thongsombut completed a skilful move to overcome the Vietnamese defence, however her shot was no trouble for Vietnamese goalkeeper Tran Thi Kim Thanh.
Several minutes later, Vietnam led the ball into the penalty area but Jada rushed out in time to catch it.
In the last minutes of the first half, Sunisa Srangthaisong took full advantage of her height but goalie Thanh blocked her shot.
Vietnam played counter attack effectively in the first half and Thailand were unable to close in on goal.
After the break, Vietnam pushed on seeking the opener and Nguyen Thi Tuyet Dung came close. She entered the penalty area but the Thai defence stopped her.
Vietnam continued to create several dangerous chances but failed to find the net.
In the 73rd minute, goalie Thanh saved a tame kick from Thailand following a confused situation in front of the Vietnamese goal.
With no goals scored the two sides entered extra time.
Just five minutes into the first half, receiving a spectacular pass from her teammate on the right wing, Huynh Nhu opened the score for Vietnam.
The hosts then put the pressure on the Vietnamese goal but Thanh was strong between the sticks.
Vietnam played defensively for the remaining time. Thailand continued to pour on the pressure in the dying minutes but failed to defend their title which they held for three years in a row.
The result provides momentum for Vietnam towards the upcoming Southeast Asian Games 30 in the Philippines later this year.
In the third-place playoff match, Myanmar defeated the Philippines 3-0 to take the bronze medal.
VNS