Vietnam finished second at the first World Beach Pencak Silat Championship which closed in Phuket, Thailand, on October 4.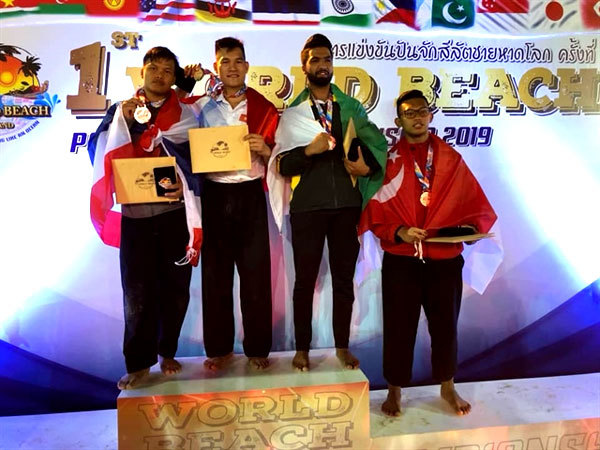 Nguyen Duy Tuyen (second left) poses with his gold medal and other athletes in the men's U85kg category. — VNS Photo
The team brought home seven gold medals in both combat and performance events.These titles included six combat golds.
Among the winners were Vu Xuan Nghi in the men's U55kg who beat Chakkrit Prosopsin of Thailand; SEA Games champions Nguyen Duy Tuyen topped the men's U85kg podium after defeating Pimpirat Tonkhieo of the hosts; and Le Thi Nga won in the women's U50kg after overcoming Thai Janejira Wankrue.
The only gold in the tunggal (performance) went to female team of Nguyen Thi Thu Ha, Nguyen Thi Huyen and Vuong Thi Binh.
The first world tournament attracted competitors from over 35 countries, eager to win one of the 25 gold medals on offer. Competing on the beach so competitors were allowed to wear protective glasses to prevent sand getting into their eyes.
Silat is a type of martial arts traditionally practised in Brunei, Indonesia, Malaysia, Singapore, portions of the Philippines, the southern part of Thailand and the central part of Vietnam.
VNS