Vietnam won two bronze medals in Muay Thai events at the ongoing 2019 Arafura Games in Australia.
 Muay athletes to fight in HCM City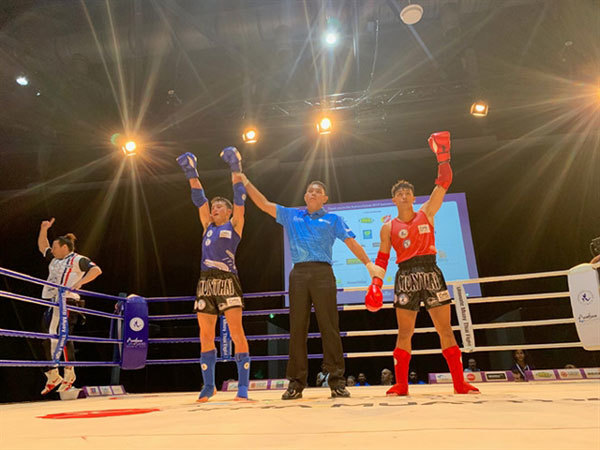 Nguyen Tran Duy Nhat of Viet Nam (right) in the men's semi-final 63.5kg match. Nhat lost 28-29 to French athlete Lorenzo Sammartino and pocketed a bronze medal. — Photo Thien Nga
Top Vietnamese athlete Nguyen Tran Duy Nhat claimed bronze in the men's 63.5kg category after losing 28-29 to Lorenzo Sammartino of France in a match that saw Nhat floor his opponent in the third round.
Sammartino won following a controversial decision by the referee. Nhat's coach Giap Trung Thang said he would send a complaint to the organisers.
"I was confident for a win in this match but you saw the final decision," said Nhat after the match. "It is sad but I will have to work harder in the coming tournament."
"We brought athletes here with a view to collect points to qualify for the World Games in the US in 2021," said Thang. "In this match Nhat did a better job than his rival but the organisers did not show the points of athletes after each round as usual, so it was difficult for us to guide our athlete. I am having doubts about the accuracy of the jury. We will issue our complaints about this point counting system for the Arafura Games."
Sammartino will face Igor Liubchenko of Ukraine in the final.
The other bronze medal for Vietnam went to Truong Thi Hong Nga in the women's 63.6kg category. She was defeated by Janejira Wankrue in the semi-finals.
Wankrue will face Zoe Putorak of the host nation in the gold-medal match.
VNS