Vietnam tied 0-0 with Myanmar in the second match of the four-side International U18 Football Tournament in Hong Kong on April 20.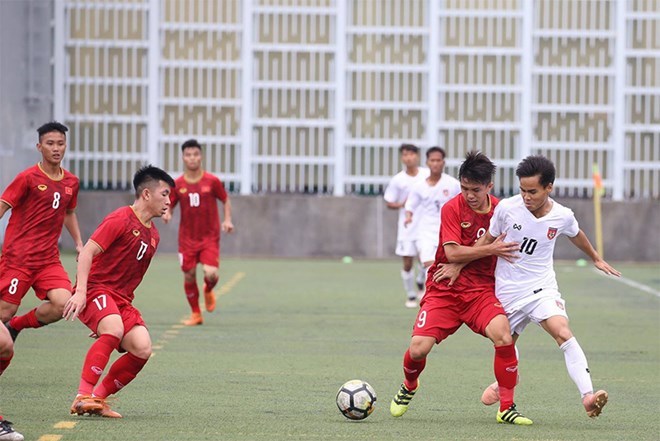 Vietnam (in red) tied 0-0 with Myanmar in the match on April 20 (Photo: vietnamnet.vn)
In the other match, hosts Hong Kong unexpectedly defeated Singapore 2-0.
In the first round of matches on April 19, Vietnam beat Singapore 1-0. The Vietnamese team played an attacking style from the beginning and established control but failed to score during the first half.
Coach Hoang Anh Tuan made five changes after the break but the substitutes also could not bypass Singapore's defence.
Moments from the end of the match, Xuan Tao was knocked down in the box and Vietnam were given a penalty. Captain Bui Tien Sinh stepped up to the spot and scored the winner.
Meanwhile, Myanmar defeated the hosts Hong Kong 2-0.
Vietnam now temporarily rank second at the tournament just behind Myanmar. Both teams have four points by Myanmar have one goal higher than Vietnam.
In the last round of matches on April 22, Vietnam will face hosts Hong Kong while Myanmar will play Singapore.-VNA