Qualification for the semi-finals of the ASEAN Football Federation U18 Championship is out of Vietnam's hands after a goalless draw with Thailand on Tuesday.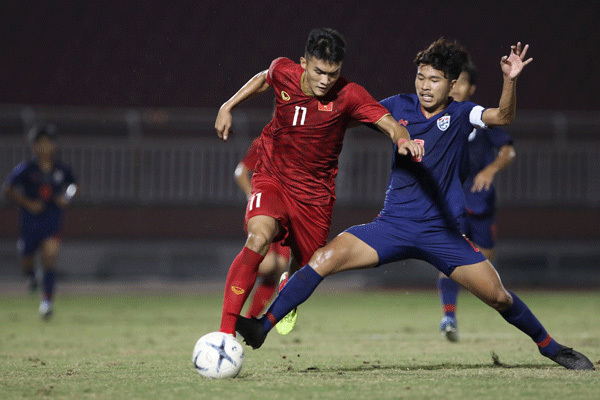 Striker Vo Nguyen Hoang of Viet Nam (left) runs away from a Thai defender during their Group B match of the ASEAN Football Federation U18 Championship. Photo courtesy of VFF
The team must beat Cambodia in the last match and hope Thailand defeat Malaysia or Singapore overcome Australia.
Held in HCM City, the draw puts Vietnam in third place in the table with seven points, behind Australia and Malaysia, who both have nine points.
Vietnam entered the game with strong determination to beat long-time arch-rival Thailand, who were are already eliminated after three poor results.
However they disappointed more than 10,000 screaming fans wasting a host of chances at the Thong Nhat Stadium.
Opportunities fell to Vo Nguyen Hoang, Nguyen Kim Nhat and 'little Cong Phuong' Pham Xuan Tao but they all failed to find the net.
The second half saw Vietnam come close but were just not enough to score too.
Thailand played stronger after the break but they too were guilty of poor finishing with goalkeeper Y E Li Ni in good form.
"The result was what I had expected," said Vietnam head coach Hoang Anh Tuan.
"Thailand are always tough rival. A draw result was worthy for both sides who missed a lot of chances. But we still have another match to play."
Thailand's assistant coach Boumprom appreciated Vietnam saying Vietnamese football has a bright future ahead.
"It was a highly competitive game. And it was a keen fight between the two teams," he told aseanfootball.org.
"Naturally, we are disappointed with the way we have performed this week. The boys seem exhausted but we will improve for the AFC qualifiers."
In other matches yesterday, Malaysia made a bang when they beat powerhouse Australia 3-0 at the Thanh Long Stadium. And Singapore improved to fourth place after a 1-0 win over Cambodia.
VNS