Vietnamese movie star and music producer Ngo Thanh Van, known as Veronica Ngo, plays a Vietnamese woman named Hanoi Hannah in a US film directed by Oscar winner Spike Lee.
Actress Ngo Thanh Van wants to promote action movie
Female director films romantic comedy about Saigon in the 60s
Vietnam's action movie to compete at film fest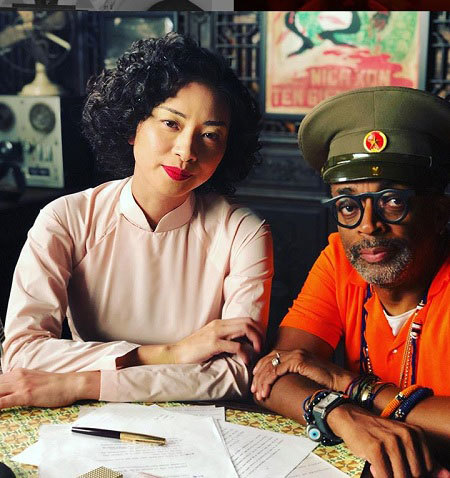 Vietnamese movie star and music producer Ngo Thanh Van, known as Veronica Ngo, performs in Da 5 Bloods, a war drama by Oscar-winning director Spike Lee and writer Kevin Willmott. The film stars Chadwick Boseman, who is popular for his role as the Black Panther in Marvel Cinematic Universe films. — Photo from the director's instagram
The film, Da 5 Bloods, stars Chadwick Boseman, who is popular for playing the Black Panther in Marvel Cinematic Universe films, and Delroy Lindo and Clarke Peters.
Shooting began in March. Van will film her first scenes in Vietnam this month.
She met Lee in HCM City last week. On his Instagram, director Lee wrote: "Ms. Veronica Ngo as Hanoi Hannah and General Lee."
He also posted a photo of Van in a scene of Da 5 Bloods.
Lee's war drama is about four African-American veterans of the Vietnam war who return to Vietnam years later. They are in search of the remains of their fallen squad leader and the promise of buried treasures.
Distributed by Netflix, the film will be in cinemas next year.
Lee is famous for Do the Right Thing in 1989, Jungle Fever in 1991, Malcolm X in 1992 and He Got Game in 1998.
Da 5 Bloods is the third US film in which Van has appeared.
In 2017, she played the role of a killer named Tien in Bright, a fantasy thriller by director David Ayer and starring Will Smith, Joel Edgerton and Noomi Rapace.
The US$90 million is about a policeman, played by Smith, and a humanoid called Orc, played by Edgerton, who both work to protect a magic wand from evil forces.
In 2015, she played one of the supporting roles in a sequel to the 2000 Hollywood blockbuster Crouching Tiger, Hidden Dragon, called Crouching Tiger, Hidden Dragon II: The Green Legend.
The film, directed by Yuen Woo-ping and written by John Fusco, starred Michelle Yeoh, who performed in Ang Lee's 2000 edition Crouching Tiger, Hidden Dragon, and Donnie Yen.
Produced by The Weinstein Company, the film was based on the fifth and final novel in the pentalogy, known in China as the Crane Iron Pentalogy by Wang Dulu.
Van began her career on the catwalk in HCM City in 2000 after leaving her family in Norway. She quickly became one of the city's top fashion models.
Three years later, she became involved in the music industry as a pop singer.
In 2004, Van played one of four leading roles in Rouge, a 13-part TV series by renowned Singaporean director Jonathan Foo. She was selected from 400 candidates from Asian countries.
The work was broadcast on MTV Asia, a cable TV channel broadcasting international music. It opened the door for her to become a movie star in the region.
In 2006, she played a leading role in Dòng Máu Anh Hùng (The Rebel), a kung-fu film directed by Vietnamese-American Charlie Nguyen.
The film won the Grand Jury Award in 2007 Sharing Visions, a biennial international film festival for Vietnamese filmmakers held in Los Angeles.
In 2015, she developed her talent as a movie producer in the comedy film Ngày Nảy Ngày Nay (Once Upon A Time), a co-production between Van and her partner, Canadian-Vietnamese director Cuong Ngo.
She directed her first film, Tấm Cám-Chuyện Chưa Kể (Tấm Cám-The Untold Story), a fantasy work based on a fairy tale best known as the Vietnamese version of Cinderella in 2016.
She invested a big sum of more than VND20 billion (nearly $900,000) in filming.
Tấm Cám-Chuyện Chưa Kể was released in 37 cinema complexes in Hanoi, HCM City and provinces, earning more than VND70 billion ($3.1 million) in ticket sales.
"Movies are my true love," said 41-year-old Van, owner of VAA, one of the country's leading private entertainment agencies.
VNS