Vietnamese aerobic gymnasts won three gold medals on the ninth day of the ongoing SEA Games in the Philippines yesterday.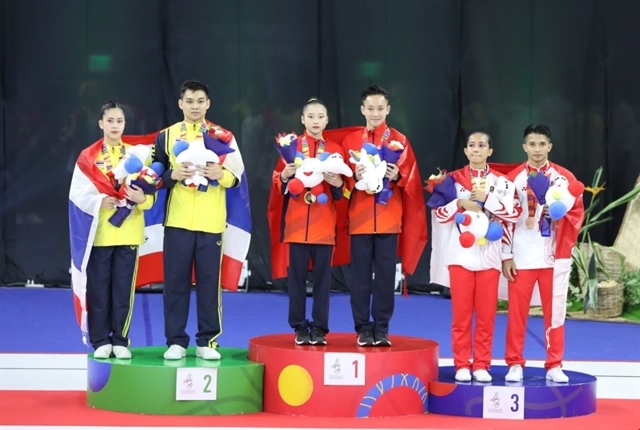 Vietnamese duo Phan ThếGia Hiển and Bùi Minh Phương (middle) won the gold medal in the aerobic mixed doubles at the SEA Games yesterday.
Trần Ngọc Thúy Vi opened the day by topping the women's singles with 21.2 points, followed by Chawisa Intakul of Thailand with 20.3 points.
In the aerobic gymnastics mixed doubles, Phan Thế Gia Hiển and Bùi Minh Phương took gold with 20.9 points. Pairs from Thailand and Indonesia won silver and bronze, respectively.
In the men's trios, Nguyễn Việt Anh, Nguyễn Chế Thanh and Vương Hoài Ân seized a gold medal with 22.05 points. Indonesia and Thai team were the runners-up.
Meanwhile, Nguyễn Thị Tâm won gold in the women's 51kg boxing after beating Magno Iris of the hosts in the final.
"I was very happy and excited as this is my first SEA Games gold medal," said Tâm.
"Previously, I met Iris two times and beat her. After the Games, I will fly to Thailand to prepare for Olympic qualifying. I will try my best to put Vietnamese boxing to the world," Tâm added.
Tâm, who was born in Quỳnh Phụ District, Thái Bình Province, made history as the country's first female boxer to win an Asian title two years ago.
Vietnamese wrestlers also dominated the Games with five gold medals thanks to Nghiêm Đình Hiếu in the men's 87 kg; Nguyễn Bá Sơn in the men's 77 kg; Bùi Tiến Hải in the men's 60kg; Nguyễn Đình Huy in the men's 55 kg and Nguyễn Thị Xuân in the women's 50kg.
In the taekwondo, Trần Thị Ánh Tuyết overwhelmed Indonesian Halinda Mariska 26-8 in the women's under 53kg's final to win gold.
Vietnamese athletes also shone in the kickboxing. Phạm Bá Hợi gained a gold in the men's 54 kg, while Nguyễn Thị Hằng Nga triumphed in the women's 48kg division.
In athletics, Đinh Thị Bích brought home another gold in the women's 800m after clocking a time of 2:7.16. Bích's teammate, Khuất Phương Anh took silver medal.
Meanwhile, female swimming star Nguyễn Thị Ánh Viên finished this year's SEA Games with six gold medals, falling short of her target of eight.
Yesterday, she couldn't qualify for the women's 100m butterfly final. While in her last race, the 800m freestyle, she only took silver medal with a time of 8:48.65.
Earlier, Viên snatched golds in the 100m backstroke, 200m backstroke, 200m medley, 400m medley, 200m freestyle and 400m freestyle.
At the Games held two years ago in Malaysia, Viên won eight gold medals, breaking three Games records, contributing greatly to Việt Nam placing third in the medal tally.
According to the Việt Nam Olympic Committee's general secretary Trần Văn Mạnh, Viên will be given the best athlete award of the Games at the closing ceremony on December 11. — VNS