Vietnam won three gold, three silver and two bronze medals to rank second overall, behind the Russian team, at the Bangkok 2020 Asia Cup, leg 1, which took place in Thailand's capital city from March 8 to 14.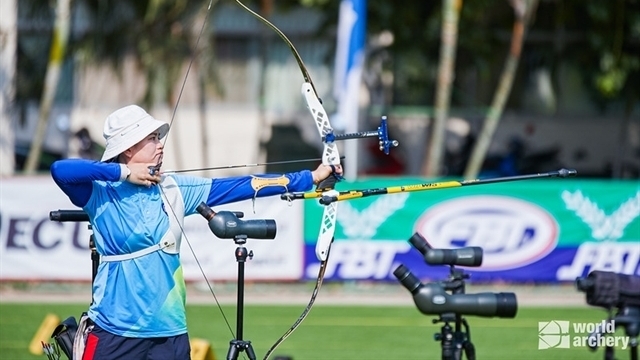 Vietnamese female archer Loc Thi Dao competes impressively at the Bangkok 2020 Asia Cup, leg 1. (Photo: World Archery Federation) 
The two golds came in both the men's and women's compound team events, thanks to the efforts from male archers Van Duy, Phi Hung and Van Duc, and their female teammates Kieu Oanh, Phuong Thao and Linh Chi.
In the final of the women's recurve individual event, three-time Southeast Asian Games winner Loc Thi Dao beat Russian Ksenia Perova 7-3 to claim the third gold medal for the Vietnamese team.
With the achievement, Dao has continued to accumulate more important points to realise her target of winning a ticket to the 2020 Summer Olympics. 
In April, Vietnam's archery team will head to Germany for an Olympic qualifying round. Earlier, Nguyen Hoang Phi Vu and Do Thi Anh Nguyet officially won two Olympic berths for Vietnamese archery. Nhan Dan