Encounter is organised by the Dogma Collection to encourage artists to understand and provide insights into their personal identity and inner world.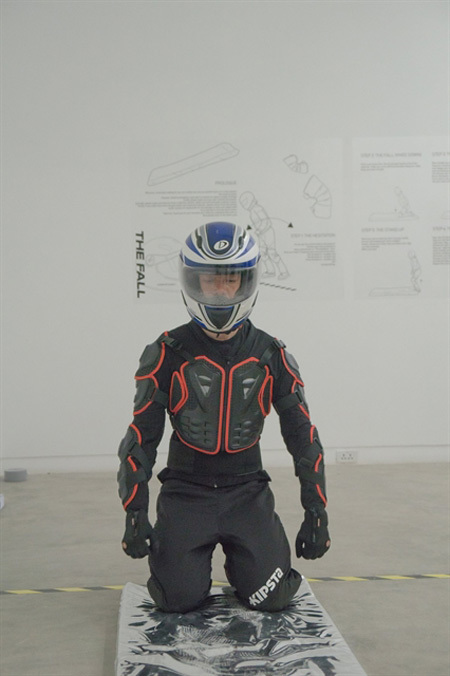 Performance and installation art work called Cú Ngã (The Fall) by Giang Nguyen, 30, has won the 2019 Dogma Prize. It is on show at the Galerie Quynh in District 1. Photo courtesy of the organiser
The collection presents paintings, photos, sculptures, installation works, and graphic videos by 14 finalists from the 2019 Dogma Prize in Self-Portraiture.
The works reveal the deeper layers of the artists' personal stories and self-inquiries.
One of the highlights is a performance and installation work called Cú Ngã (The Fall) by Giang Nguyen, 30, winner of this year's contest.
In his creation, a dancer plays a robot and takes a fall, reflecting how the technology revolution affects people.
Không đề (Untitled), a video by Pham Nguyen Anh Tu, 22, captures the innocent thoughts and imagination of a child.
Vu Ngoc Vinh, 41, brought to the exhibition a painting titled Cô gái và chiếc lông vũ (A Woman and a Feather) inspired by the Vietnamese love story of My Chau and Trong Thuy to reflect love, sacrifice and suffering.
Báu Vật Của Thiên Chúa (Treasures of God), a cubistic painting by 66-year-old Nguyen Minh Chau, focuses on people's mental pains.
The Dogma Prize was established in 2009 and funded by the independent Dogma Collection.
The biennial competition aims to encourage Vietnamese artists living in the country and abroad to express their views on themselves as a metaphor for the cultures and societies in which they live.
Encounter will go on until September 7.
The gallery is at 118 Nguyen Van Thu Street, District 1.
VNS