Vietnamese artists in recent years have been investing in web dramas which have attracted tens of millions of views on YouTube.
Tết film releases earn big profits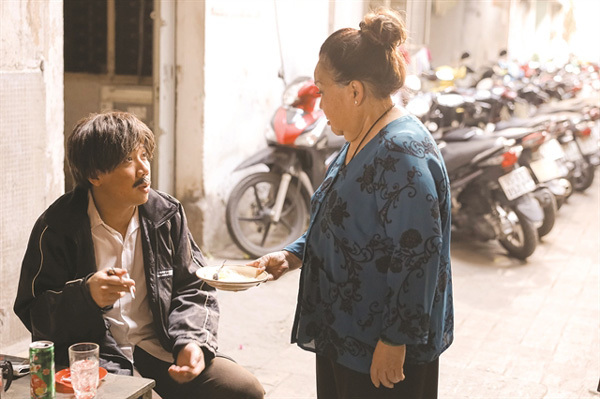 Actor Tran Thanh and People's Artist Ngoc Giau in Bố Già (Old Dad), the most-viewed web drama in Vietnam. It has earned more than 90 million views for five episodes. Still photo taken from video
Actor Tran Thanh's Bố Già (Old Dad) is the most-viewed web drama in Vietnam, having earning more than 90 million views for five episodes. It ranked number 1 on trending on YouTube in Vietnam after the film premiered on January 2.
The five-episode series is about the life an older motorbike taxi driver who faces problems earning enough money for his family.
He sometimes behaves cruelly to his two children and wife, but he is also a kind-hearted man who loves his family and likes to help people.
"My wife gave me ideas for the film, and we finished the screenplay together," Thanh, who plays the leading role, told local media in interviews.
"In Vietnam, people love to do films about mothers, but not many fathers," he said, adding that he hoped that the film would enhance understanding about Vietnamese fathers.
"People often complain that Vietnamese fathers are rude and they forget what they have done," said the 33-year-old actor who invested VND4 billion (US$172,000) in the production.
To achieve the best quality, Thanh invited experienced filmmakers to work on the production.
The film's director is To Gia Tuan, aka Mr. To, who has directed popular web dramas like Thập Tam Muội (The 13th Sister) and Vi Cá Tiền Truyện (Chasing Love).
The film also features young actors Tuan Tran and Ali Hoang Duong, and veteran actors including People's Artist Ngoc Giau and Le Giang.
Bố Già has been praised by the media and the public, receiving thousands of positive comments on Tran Thanh's YouTube channel.
Viewer Vuong Thanh Liem said the film "feels close to people and it's about good things in life", while viewer Duy Tran said he saw it twice.
Tran Thanh, a graduate in acting from the HCM City University of Cinematography and Theatre, is known primarily as an MC, a comic and movie actor, voice actor and producer.
As an MC in 2006, he earned several awards for his role at Mai Vàng (Golden Ochna) Awards in 2013 and 2014, the Vietnam Television Awards in 2015, and the HCM City Television Awards in 2014.
He has played leading roles in top Vietnamese films such as Cua Lại Vợ Bầu (Falling in Love Again) earning VND191.8 billion ($8.25 million) in ticket sales, and  (Dr Quynh) with VND100 billion ($4.3 million).
Last year, he also released a eight-part web drama called The Call on YouTube. The drama, about mysterious calls at night, has attracted more than 2 million views for each episode.
Like Thanh, Thu Trang, Huynh Lap and Nam Thu have invested billions of dong in making web dramas and have achieved success.
Singer and actress Hang is a new face in the genre. She is working on her first production, which is still a secret.
"I spent half a year on writing the script and casting. I will be the director and play a leading role because I want to control the film to ensure it is perfect," said the 34-year-old actress.
Hang played a leading role in movies like Sắc Đẹp Ngàn Cân, a Vietnamese version of Korean movie 200 Pounds Beauty, and won a Mai Vàng Awards for favourite actress in 2017.
"My film will reflect hot topics of today's society with thrilling details in hopes of bringing audiences a unique production," she added.
Hang and her colleagues Truong Thanh Long and Xuan Phuc are on set for filming.
She expects to release her film on YouTube in mid-2020. — VNS

Film director Phan Gia Nhat Linh has begun casting for his movie on the late famous songwriter Trinh Cong Son called Em và Trịnh (You and Trịnh).

Women, love and family values are the themes of new TV shows on HCM City Television that will begin to air during the Lunar New Year or Tet, which begins on January 24.