The recently concluded 2020 National Athletics Championship helped athletes prepare for the upcoming Southeast Asian (SEA) Games 31 to be held in Vietnam next year.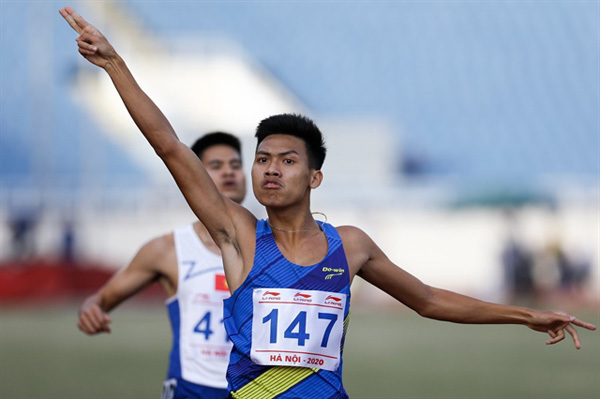 Tran Van Dang, the new champion in the men's 1,500m and 800m category. - Photo zing.vn
At the championship which concluded over the weekend, many athletes who have won the SEA Games gold medals like Duong Van Thai and Nguyen Thi Huyen were surpassed by their younger peers, showing there are young athletes ready to stake their claim for a place in the national team.
SEA Games champions overthrown
Twenty-year-old Tran Van Dang of Hanoi was the most impressive new face at the event and twice defeated the defending SEA Games and national champion Duong Van Thai of Nam Dinh.
Dang overcame three-time SEA Games champion Thai in the men's 1,500m and 800m finals.
Dang's performance indicates he will replace Thai to defend the titles in the 1,500m and 800m for Vietnamese athletics at the SEA Games.
In addition to his youth, Dang is known for his determination in training and competition, as well as his ability to pick his spots in a race.
"Thai has good experience, but maybe this is about tactics. Young athletes always have to follow the senior players closely in order to learn and be able to overcome if senior athletes make mistakes," said Duong Duc Thuy, head of athletics section of the National Sports Administration.
The women's 400m events this year received a lot of attention for the competition between Nguyen Thi Huyen, the 30th SEA Games champion, and Quach Thi Lan.
Lan was injured in 2019 but recorded an impressive performance in this important tournament. Lan beat Huyen twice in the 400m with a time of 52:46secs and 400m hurdles with a time of 55:95 secs.
Lan's victory was even more meaningful because this was the first time she surpassed her senior player at a major tournament.
"Lan's performance would have been better if her mentality was stable because she trained very well. Lan often has a psychology problem when she faces Huyen because Lan almost never defeats Huyen. Only recently, Huyen was sick, so Lan won, but her results were not good. In big international tournaments, Lan has never been able to beat Huyen," said athletics coach Nguyen Thi Bac.
"However, I think after this tournament, Lan will be more confident," Bac added.
In addition, Nguyen Thi Oanh of Bac Giang proved her talent with four golds and Le Tu Chinh brought HCM City five golds.
Experts were also impressed with 17-year-old talent Phung Thi Hue, who took a bronze medal in the women's 100m with a time of 11.78 seconds.
According to Thuy, Hue surpassed many seniors such as Le Thi Mong Tuyen and Oanh to prove her ability.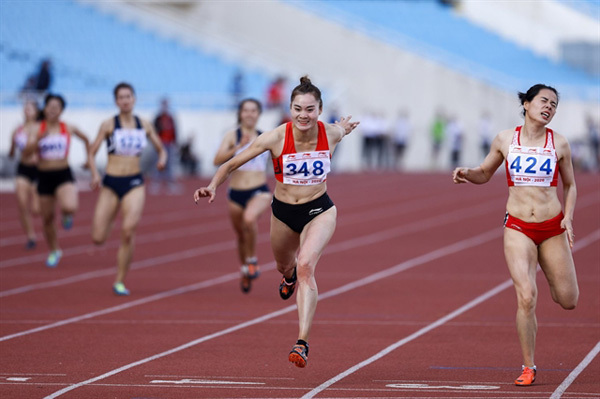 Quach Thi Lan competes in the National Athletics Championship. — Photo zing.vn
Maintaining top spot at SEA Games and Olympic goals
Ngan Ngoc Nghia made a big splash by breaking his own record in the men's 100 m with a new time of 10:40 secs. He then won the gold medal in the men's 200m with a time of 20:92 secs.
However, Nghia's times were still considerably behind his regional competitors.
"We have a record in the men's 100m in the national event, but to gain the SEA Games gold medal in this division is still a challenge for the trainers themselves as well as Vietnamese athletes, including Nghia," said Thuy.
The goal at the 31st SEA Games for the Vietnamese athletics team is to maintain the first place with 17-19 gold medals.
According to Thuy, if that goal is to be achieved, young athletes will need to step up.
As well as the SEA Games at home, Vietnamese athletes are aiming to win tickets to the Tokyo Olympics next year. The 4x400m mixed relay team (Quach Thi Lan, Tran Nhat Hoang, Nguyen Thi Hang and Tran Dinh Son) has a great opportunity as the best 16 teams in the world will qualify.
"Vietnamese athletics hopes it will get a ticket to Tokyo in the 4x400m mixed relay event as the team are in the top 16 of the world, however, the team will have to try their best in the next events to improve their result," said Nguyen Manh Hung, general secretary of the Vietnam Athletics Federation.
According to Hung, in addition to the 4x400m mixed relay team, runner Lan also has the opportunity to win a ticket to Tokyo as she ranks top of Asia and 19th in the world in the 400m hurdles. However, the athletes will have to work harder because the Olympic standards will be changed when they are based on the number of points on the rankings.  VNS

Athletes will compete in up to 40 different sports when Vietnam hosts the Southeast Asia (SEA) Games in Hanoi next year.

Vietnamese shooters aim to bag six gold medals to lead the medal tally for shooting teams in the Southeast Asian (SEA) Games 31 to be held in Vietnam next year.