Vietnamese Olympic athletes at the Tokyo 2020 Games will receive VND1.85 billion (over US$80,600) in bonuses for each gold medal win.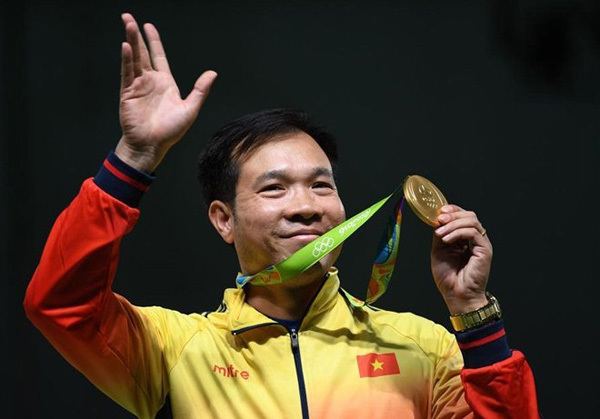 Shooter Hoang Xuan Vinh celebrates winning Vietnam's first-ever Olympic gold medal at Rio 2016 Games.
The bonus money comprises VND350 million from the State budget, as prescribed in the Prime Minister's Decree 152/2018/ND-CP dated November 7, 2018, along with VND1.5 billion pledged by sponsors.
Notably, the State's bonus has increased nearly two-fold from the VND180 million level that shooter Hoang Xuan Vinh received following his 2016 Olympic glory.
Meanwhile, respective bonuses of VND1 billion and VND640 million will be awarded for each silver and bronze medal won by Vietnamese Olympians in Tokyo.
The bonus money for Vietnamese Olympic medallists is expected to increase significantly with contributions from many other sources such as the sports sector, athlete management units, businesses, organisations, and individuals.
Vietnam will send a 43-strong delegation, including 18 athletes, to Tokyo later this month, with the aim of returning home with medals.
Five years ago, Vietnam ranked 45th in the medal table at the Rio 2016 Olympics in Brazil with one gold and one silver, both won by shooter Hoang Xuan Vinh.
Source: Nhan Dan

The Vietnamese delegation to the Tokyo 2020 Olympics consists of 43 members led by Deputy General Director of the Vietnam Sports Administration Tran Duc Phan, according to a decision issued by the Ministry of Culture, Sports and Tourism.