Vietnam won three gold medals and set records at the Taiwan Open Athletics Championships 2019 which closed on May 26.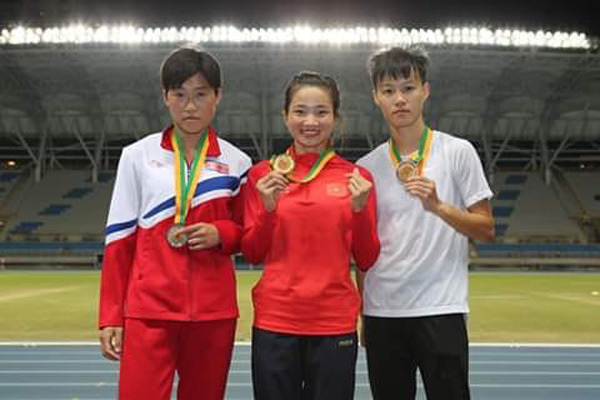 Nguyen Thi Oanh (centre) receives her gold medal for the women's 3,000m steeplechase. — Photo courtesy of Nguyen Thi Oanh
Southeast Asian Games champion Nguyen Thi Oanh scored a brace of titles.
She won the women's 3,000m steeplechase with a time of 9min 52.07sec, which was a season's best and championship record, surpassing the time of 10:13.40 set by Pak Kum Hyang of North Korea in 2011.
Kim Ran Yon of North Korea and Chen Chao-Chun of the hosts were second and third.
Oanh went on to win the 5,000m after clocking 16min 27.94sec, which was about six seconds faster than the time set by Triyaningsih Triyaningsih seven years ago.
Tsao Chun-Yu of Chinese Taipei was second and Oanh's teammate Lo Thi Thanh came third.
Vu Thi Ngoc Ha won the women's triple jump with a season's best 13.53m.
Kirthana Ramasamy of Malaysia came second, followed by Mariko Morimoto of Japan.
VNS