All eyes will be on Nguyen Thi Thu Nhi when she fights for the World Boxing Organisation Asia Pacific minimumweight title on Saturday in Cambodia.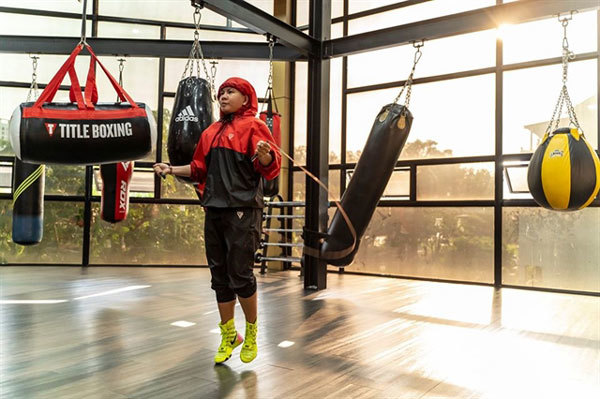 Nguyen Thi Thu Nhi practises at the Cocky Buffalo Gym for her WBO Asia Pacific Title Match. Photo of Cocky Buffalo
Nhi is the first Vietnamese female boxer to vie for the title and if she wins, she'll be the first person from her country to qualify for the world championship in South Korea in April.
Nhi is one of several local boxers growing the sport in a country that lacks a long history with the sweet science.
Thao, Hoang - the pioneers
Tran Van Thao, 27, was the first local fighter to make his name internationally.
He opened a new chapter in national boxing after knocking out George 'Coken' Lumoly of Indonesia to take his World Boxing Council (WBC) Asia super flyweight title in 2017 in Bangkok.
After him, Truong Dinh Hoang, 29, has shown he is the best in Vietnam currently.
Hoang clinched the World Boxing Association Asia East super middleweight belt last October after beating South Korean Lee Gyu-hyun in Hanoi.
On February 15, Hoang defended his WBA Asia title by knocking out Yuttana Wongda of Thailand in Manila, the Philippines.
They are outstanding examples of success in boxing and have drawn people's attention to the sport.
Love for the sport and glory are some draws to boxing, but the big purses on offer are also attractive to Vietnamese fighters.
Last year, boxer Thao earned VND450 million (US$19,300) for a single bout, win or loss, while Nhi bagged VND400 million ($17,200) after winning one fight in 2018.
According to Nguyen Duc An Son, President of HCM City Boxing Federation, there are currently 17 professional boxers in Vietnam, a remarkable number considering there were zero three years ago.
"When I came here to coach four years ago, I thought boxing was not popular but later on I found that people step by step love it and now there are so many gyms here (to serve people's demand)," said Filipino coach Do Dong of the Sai Gon Sports Club.
"Since my first days, there are few trainees but months later, the number of people practising is on the high rise including women because boxing is not just a fighting sport, it keeps people fit too. No doubt that the number of trainees will increase sharply in the coming years," he told Việt Nam News.
South Korean coach Kim Sang-bum of Cocky Buffalo Club agreed.
"When I opened my club three years ago, there were only several members. But the number is now increasing exponentially. It proves that Vietnamese not only like but love boxing," said Kim.
"They may recognise that it is good for their fitness and improve their agility. Before boxing was for talented ones, now, it is for everyone," he said.
Boxer Hoang also opened TDH Club in his home town in Buon Ma Thuot City, which has lured many participants, especially after he secured his second belt.
"It is always full and fun. I practice boxing while managing this club. The more you train the better you understand why people love this sport," said Do Thi Thao, Hoang's wife.
"The club welcomes all people who want to improve their health up or become professionals. Boxing is on the rise here," she said.
Promising sport
Both of the two boxing pioneers hope to bring the sport forward in Vietnam.
"I am happy and proud to bring victory to Vietnam. But I also know that it is hard to win a title but harder to defend it," said Thao who has received a number of challenges from many athletes and will fight again soon.
"I dream to push Vietnam to the world, not only in Asia. Manny Pacquiao made it for the Philippines so there is no reason that others can't do it too," he said.
Though he's already a top athlete Hoang has bigger goals and wants international title fights, even against world-class opponents.
"I have my dreams and plans to complete them for me and my trainees too," said Hoang added that there are talented athletes such as Nguyen Thi Tam, Nguyen Van Hai and Sam Minh Phat and they need more support to develop.
Coach Kim, who has been in Vietnam for many years, said: "Vietnam is home to boxers who would grow strongly given the required support. Vietnamese people are smart, observant and active. They can keep their balance well and most importantly they are always thirsty for victory. These are key elements in boxing.
"The boxing here is in its first steps and will bloom in the future. Vietnam could be a leading country in Asia if boxers are well-supported and if there was someone who could link Vietnam to international boxing competitions. People may not believe that but I will be the one to prove what I said," said Kim who organised the WBO Oriental Title Match last November in HCM City. VNS
Thanh Ha

Boxing fans in Vietnam will get to see fierce battles as part of the WBO Oriental Youth Title Match that will take place at the Cocky Buffalo Gym, HCM City on Sunday.

Vietnamese boxer Tran Van Thao will compete against Australia's Billy Dib for the World Boxing Council (WBC) Australasian title in Australia on December 20.

Vietnam champion Ha Thi Linh is hope to fight her way to the top. On Saturday, she will make her professional debut at the World Boxing Organisation Asia Pacific tournament in China.