Doan Van Hau walks around the Abe Lenstra Stadion on his first day in the Netherlands. He visits every corner of the ground, from the pitch and dressing rooms to the player's tunnel.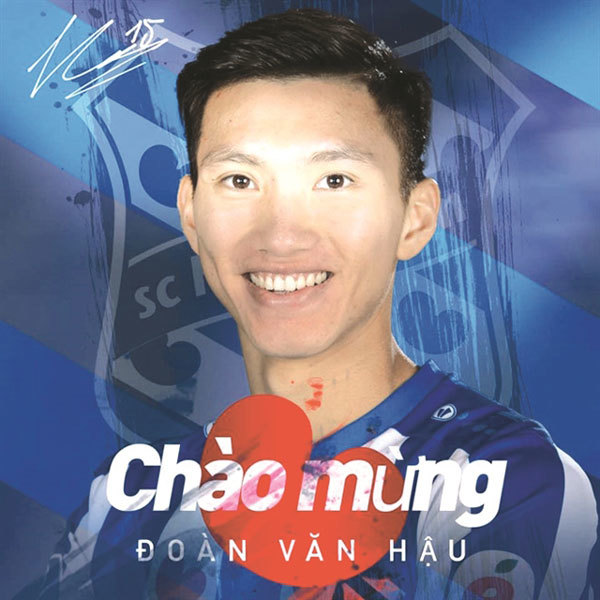 SC Heerenveen welcome Doan Van Hau to the club, setting his photo on fanpage with greeting in Vietnamese. Photo SC Heerenveen
He spends much time at the Pronkkeamer Heerenveen museum where he can see trophies, medals and photos of SC Heerenveen's greatest players.
With a big smile, Hau enters the press room and signs a one-year loan contract with technical manager Gerry Hamstra.
It's a dream come true for the 20-year-old Vietnamese defender, signing for a top European side. It wasn't dreaming that brought him to this moment, but hard work, dedication and talent.
Overcoming gaming addiction
"If I was not a player, I might be a coach driver's assistant," Hau said.
The boy was born to a poor family in the northern province of Thai Binh in 1999. His older brother had to quit school to work as a coach driver's assistant to support the family, a path Hau was expected to follow.
Luckily, Hau's football talent shone at an early age and he was picked for a provincial team that won the national championships for U11 kids in 2010.
His performance caught the eye of Ha Noi FC scouts, who brought him to the capital to train in a more professional environment.
"Hau was chosen because of his good technique, playing intelligence and hard workings. What I loved the most were his beautiful long-distance finishes. He could make accurate finishes without a run-up," said then Ha Noi FC youth coach Vu Hong Viet.
Like many other children, Hau loved video games and often played truant to spend time gaming. Viet once caught Hậu gaming, which incensed the now Quang Nam FC head coach so much that he called his father to come to the club.
"Viet asked: 'Now we have you, your father and me here. I just have a question: football or game, what is your choice?'
"Hau, then 15, was so scared, crying and saying 'sorry' and promised the coach he would give up gaming and focus on football. The first stumble made him different. He has never disturbed parents and coaches since, but put all his focus into training," said Doan Quoc Thang, Hau's father.
Doan Van Hau (left) competes in a match between Vietnam and Thailand in the King's Cup in June. Photo sport5.vn
 
At the age of 17, he began making his name in local football thanks to outstanding performances at the 2016 AFC U19 Championship where Vietnam shocked North Korea 2-1, with Hau scoring the winner.

Left-footed Hau then became a key member of the national U19 team who qualified for the World Cup in 2017 and began breaking into the Ha Noi FC first team.
He was humble enough to say his senior teammates were far ahead of him, but it didn't take him long to catch up and become a regular as the youngest player in the team at 18.
Last year was jam-packed for Hau, turning out for the national U19, U23 and first team squads thanks to his skill and versatility.
"He is more experienced than his age of 20. He can defend well and is a threat to any defence when he goes forward. He can make powerful shots from 25-30m," said coach Hoang Anh Tuan of the U20 team.

With the national teams, he won the AFF Cup and a silver medal at the Asian U23 Championship last year, as well as a V.League title with his club side.
Million-dollar player
Before signing his contract with SC Heerenveen, Hau had been attracting attention from international scouts.
Apart from those from Asia including Japan and Thailand, the talented player received interest from Austrian and German teams.
Heerenveen, formerly home to the likes of Ruud Van Nistelrooy and Klass-Jan Huntelaar, spent two months in negotiations with Hau and the Ha Noi club to sign the defender.
The deal includes an option to buy for about 1.5 million euros (US$1.7 million), which would make him the most expensive Vietnamese player ever.
The Dutch club has also agreed to release Hau for national team duty, including for the Southeast Asian Games this November.
Hau is excited and wants to adapt quickly to his new environment, but he's not unfamiliar with Dutch football.
"I watched different football leagues including tournaments from the Netherlands since I was a kid. So I already knew about SC Heerenveen," he said.

"I am proud to become part of this team and this club. SC Heerenveen is a great club which has a big history and I am very happy to be here. It is a dream come true for me," he said.
"The football level here is higher than in Vietnam. It is more professional and faster here. So, I have to adjust as quickly as possible. I have to be able to communicate with coaches and teammates.
"I am always enthusiastic and want to win every game. I will train hard and wait to have my chance to play and I will take that chance to earn my place. I am a little nervous but I will try my best and give everything for my club."
Coaches and pundits alike have tipped Hau to succeed in Europe.
"It is no surprise when SC Heerenveen signed Hau. He has all qualities of a good player. What he needs to improve is physique as football in Europe is quite different from South East Asia," coach Viet said.
Veteran commentator Vu Quang Huy said "the door is open for Hau as he plays in the same style as many players in the Netherlands".
"It is a suitable chance for him to integrate into European football competition like the Eredivisie. Hau is 1.85m tall, he is young and clever. He also has experience in international competitions," Huy said.
"He's a defender but his attacks are threatening, which will be a plus in the eyes of coach Johnny Jansen. One thing is that he needs a little time to integrate with the team as well as other issues such as language and climate, then he can develop and earn his spot."

Hanoi FC and Vietnamese national team star, Doan Van Hau is set to join Dutch top division club SC Heerenveen under a one-year loan agreement.  
VNS