A young Vietnamese designer's Lego creation showing Tet (Lunar New Year) traditions has been featured on the official Lego Facebook page as 'Build of the week'.
Huynh Cao Vu Khang's "Tet holiday" lego models which illustrate Vietnamese traditional Tet dishes and tree have been featured by Lego's fanpage as "Build of the week". Photo courtesy of Huynh Khang
From 5,000 pieces of lego, Huynh Cao Vu Khang's creations of traditional Vietnamese new year foods like caramelised pork and eggs, Chưng cake, and an apricot blossom tree fascinated netizens around the world.
Three days after publishing on Lego's page on February 15, the collection had received more than 12,000 reactions, 3,100 comments and 5,000 shares.
"I'm a freelance designer. I started playing Lego at the age of four, but it was not until I was 18 that I came back and took this toy seriously. Now I'm working on many Lego professional projects," Khang said.
Not only famous with this project, Khang has been known as a talented Lego artist. This is a Honda Super Cub from Khang's other Lego project. Photo courtesy of Huynh Khang
Khang started the project in December 2019. He got the idea when he saw a piece of Lego in the form of half an egg very similar to the duck's egg used to make the caramelised pork.
"After that, I developed Lego into many traditional dishes of Tet holiday," said the 31-year-old designer.
"Conceptualising and sketching are one thing, but hunting down the right pieces of Lego for the project is another story.
"For me, the yellow apricot branches are the hardest because I have to find the right pieces of Lego to make it lively and realistic. After many days of thinking, I decided to use two types of Lego aircraft propellers.
"However, because these two types of pieces are old and not very available, finding and buying them was very difficult. I had to order from many Lego stores from Thailand to Germany and the US. It took 3-4 months to have enough 'ingredients'," he said.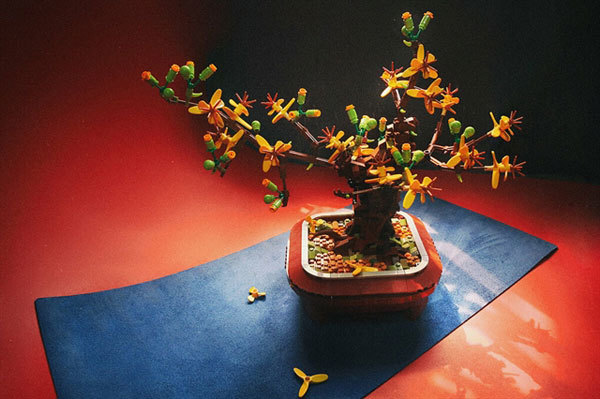 A full model of apricot blossom tree made by Khang in 2021 Tet holiday. Photo courtesy of Huynh Khang
Khang spent a month building the project and many overseas Vietnamese shared the post, saying that it reminded them of their homeland's traditions.
"Looking at this make me miss my hometown food so much, can't wait to go back home after this nightmare pandemic ends," a Facebook user called Dau Minh Thang commented.
"Super creative! I didn't know Lego can be this yummy," commented Tinh Hoa.
"In this time of COVID-19, my works from Lego not only entertain me but also spread optimism to others," Khang said.
VNS

Hanoi's most fabulous craft event to bid farewell to the year 2020 and welcome Vietnamese traditional lunar New Year.

During the Lunar New Year (Tet) festival, each ethnic group in Vietnam has its own culinary specialties that reflect the culture of their people and are used as offerings to worship their ancestors.