Despite being affected by the COVID-19 pandemic, Vietnamese fashion designers have opted for innovation and meaningful projects.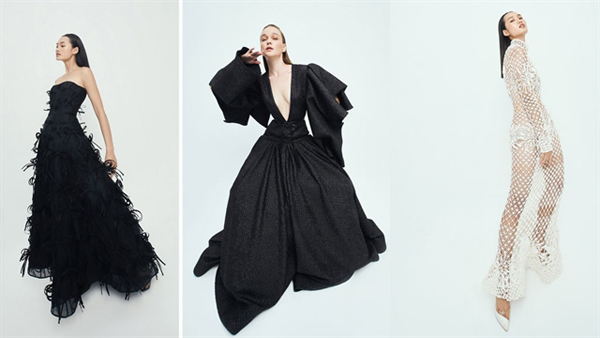 Designer Cong Tri's Fall-Winter 2021 collection has been featured in Vogue US magazine. Photo: thanhnien.vn
The local fashion industry has faced multiple crises, with fashion weeks and clothing stores being cancelled and closed due to the pandemic.
Rather than succumbing to fate, designers have taken new directions to adapt to the current situation. New collections have been launched on international online platforms. 
At the end of February, designer Tran Hung, runner-up of Project Runway Vietnam 2015, introduced his La Muse collection within the framework of London Fashion Week Autumn-Winter 2021 on his official YouTube and TikTok channels.
Hung's fifth collection continued to use environmentally friendly materials and take advantage of leftover fabrics from old collections to create new sustainable pieces. It appeared on London Fashion Week's homepage this year.
After his previous success from his Feminism, Menswear, Revival and Musée d'Art collections in the UK, Hung held a fashion show in Vietnam at the end of 2020 to showcase his Musée d'Art collection. The show was done in collaboration with an art exhibition to offer the best viewing experience for visitors.
Meanwhile, to stimulate tourism growth, multiple fashion shows have been organised at famous tourist destinations between social-distancing periods.
Specifically, director Long Kan at the end of March hosted a show called Fashion Voyage #3 in the middle of the sea and sky of Phu Quoc, with the participation of designer Le Thanh Hoa, Adrian Anh Tuan and Vo Cong Khanh.
In addition to famous designers, it was the first time for young talents to showcase their creativity at the show.
At the beginning of April, more than 600 sets of Áo dài in various styles from 15 local and international designers were introduced at the cultural space Van Mieu - Quoc Tu Giam in Hanoi in the show Áo dài của chúng ta (Our Áo dài). 
Practical strategies
Many organisations and designers have made creative efforts to open up new opportunities and reshape their designs, making them more meaningful and practical.
When organising the Vietnam International Fashion Week in HCM City at the end of 2020, the producer prepared to be ready for the worst case scenario and livestream the event in case of an outbreak.
This year, Vietnam International Fashion Week is scheduled to take place May 27-30 in HCM City.
However, due to the complications of the pandemic, president of Vietnam Fashion Week Trang Le told Thanh Niên newspaper that the show has yet to be confirmed and it will fully comply with requirements from authorities in pandemic prevention.
"Make a Change" is this year's theme, Trang said, explaining that the theme encourages young designers to change their perception when it comes to fashion and bring a positive outcome for the industry.
Designer Adrian Anh Tuan has been chosen to open the event.
In a related matter, several Vietnamese designers, notably Cong Tri, have sought opportunities overseas and successfully impressed global stars such as Rosé from the group Blackpink in South Korea.
Designer Cong Tri on May 6 launched his Fall-Winter 2021 collection, which was featured in Vogue US magazine. His creative designs have been widely recognised in the US.
VNS

Popular designer Cong Tri has just introduced his new Autumn & Winter 2021 collection, which highlights material processing techniques.

Young designer Le Ngoc Ha Thu has taken first prize in the menswear category at the Redress Design Award 2020, which is the world's largest sustainable fashion design competition and hosted by Redress in Hong Kong in September.