Hãy Thức Tỉnh và Sẵn Sàng, or Stay Awake, Be Ready by Pham Thien An won the best short film in the Director's Fortnight section of Cannes Film Festival 2019.
The film beat nine nominations from different countries.
A scene in the film
Director Pham Thien An said the prize was a big driving force for him to make a longer film which was also introduced to international movie experts at this year's Cannes Film Festival's Focus CoPro category.
The screening of Stay Awake, Be Ready at Cannes on May 23-24 received praise from an international audience.
Stay Awake, Be Ready features a motorcycle accident in front of a street food stall. The incident unveils a secret story involving three young men.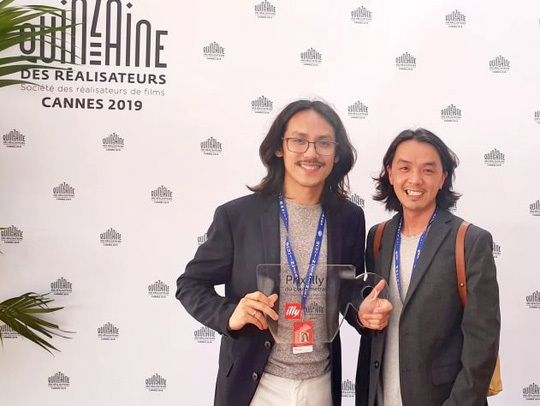 Director Pham Thien An (left)
The film was also presented with the top prize at the 2018 CJ Short Film Making Project, one of Vietnam's top short film contests.
An, 31, was born in the Central Highlands province of Lam Dong and graduated in Information Technology from Lotus University in HCM City.
He shifted to film because of personal interest and won a number of film awards, including the 48 Hours Film Project in HCM City in 2014.
In 2015, he moved to the US and continued to work as a freelance filmmaker.
His latest short film, Câm Lặng (The Mute), was screened as a World Premiere at the Palm Springs International Shortfest in the US in 2018. It also competed at 15 international short film festivals, including Winterthur in Switzerland, Tampere in Finland, Encounters in the UK, and Aspen in the US.
Nguoi Lao Dong/Dtinews