The Vietnamese chick-flick film Gái Già Lắm Chiêu 3 (The Royal Bride) was the highest-grossing Vietnamese film nationwide during the Tet (Lunar New Year) holiday.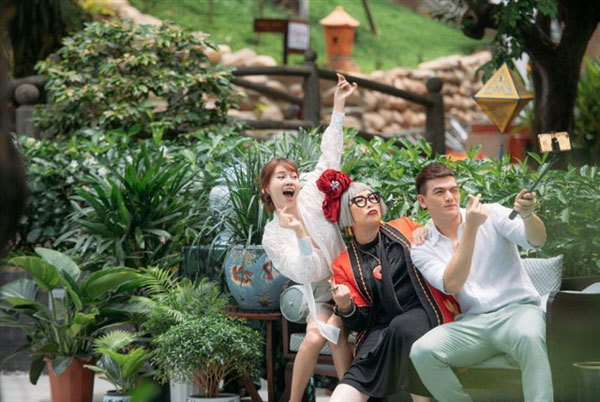 The Vietnamese chick-flick film Gái Già Lắm Chiêu 3 (The Royal Bride) was the highest-grossing film during the Tet (Lunar New Year) holiday. Photo courtesy of producer
The film, co-directed by Bao Nhan and Namcito, raked in VND102 billion (US$4.4 million) in ticket sales in just six days starting on January 25. As many as 1.6 million tickets were sold.
The film stars Ninh Duong Lan Ngoc, winner of Golden Kite Best Actress award in 2010 and 2015, and People Artists Le Khanh and Hong Van.
Ngoc plays a successful woman who travels to Hue to meet her boyfriend's family and discovers that they are descendents of Vietnamese royalty.
Director Namcito told media that the film was set in Hue and "featured the city's beautiful landscapes. It is also about the life of a Vietnamese royal family."
"The appearance of two veteran actresses Le Khanh and Hong Van in the film is another factor that helps pull in audiences."
Producer and director Quang Huy's fantasy comedy 30 Chưa Phải Tết (Tết Has Not Come Yet), earned VND11 billion ($474,000) on its premiere day on January 25.
The film is about a man who is stuck living on repeat on Lunar New Year's Eve. With the help of a monk, he escapes from the time loop to gather with his family during Tet.
Huy invited comic actor Truong Giang and Mac Van Khoa to play roles in the film.
"My film highlights traditional family values and friendship. I invested large amounts of money in my films for Tet. I hope the film can keep its current high ticket sales," Huy said.
Leading film company Thiên Ngân (Galaxy) Studio's film Đôi Mắt Âm Dương (Eyes of Evil) was also expected to be successful due to its horror theme.
Directed by Nhat Trung, the film depicts the lives of beautiful women who are hunted in a house in Da Lat. Their lives and deaths are secret until they go toward the light.
Trung invited Quoc Truong and Bao Thanh to play leading roles. They became well-known last year thanks to the TV series Về Nhà Đi Con (Come Home, My Dear) about family issues.
People's Artist Ngoc Giau and comic actress Thu Trang are also featured in the film.
After its release in January, the film earned VND5.4 billion ($233,000) in ticket sales in three sneak shows from January 17-19. — VNS

Fourteen Vietnamese films earned around VND715 billion (US$30.7) in ticket sales in the first five months of the year, a year-on-year increase of 40 per cent, according to CGV Cinemas Viet Nam. 

Making independent films has long been considered a risky investment in Vietnam. There are obstacles in the production process as well as distribution, according to directors.