Vietnam won four bronzes from the Inter-city Rhythmic Gymnastics Championship which closed on Sunday in Kuala Lumpur, Malaysia.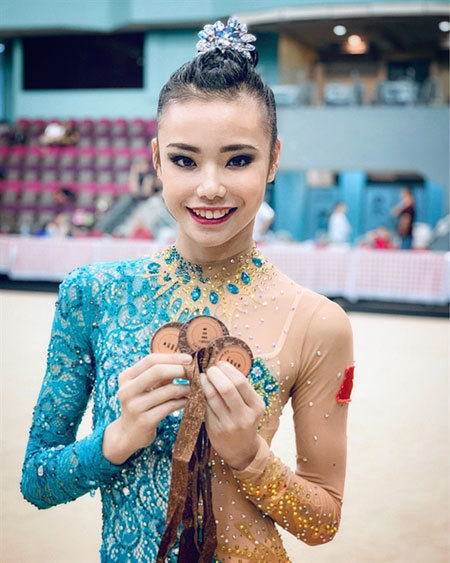 Nguyen Ha My poses with her three bronze medals from the Inter-city Rhythmic Gymnastics Championship. VNS Photo Thu Ha
Nguyen Ha My secured a hat-trick of medals as she finished third in the clubs, hoop and ball for seniors events.
Her junior teammate Phan Mai Phuong took bronze in her performance with ribbon.
The open was the last event for the Vietnamese team ahead of the Southeast Asian Games which will begin later this month in the Philippines.
My is one of two Vietnamese rhythmic gymnasts at the event. At the last Games in 2017 in Malaysia, Vietnam went home without a medal.

Vietnamese gymnasts won two medals at the FIG Artistic Gymnastics World Challenge Cup which concluded in Mersin, Turkey on Monday.

Gymnast Le Thanh Tung is Vietnam's second athlete who has qualified for the 2020 Tokyo Olympics next summer.
VNS