It's rare to spend a day driving around Hanoi without seeing at least a few kids taking a basketball to or from a court.
Jr NBA returns to Vietnam for the 5th year
What do Vietnamese kids want to do this summer?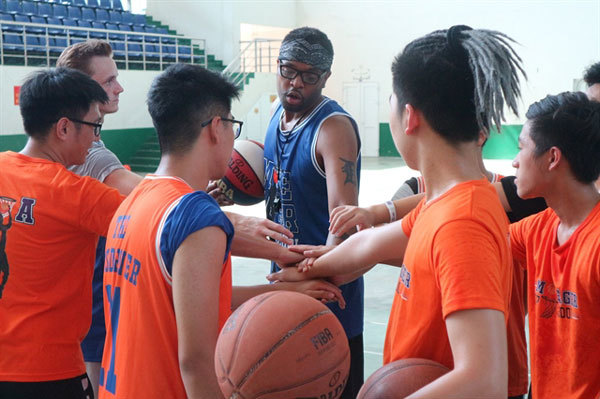 Maurice Ager (middle) coaches during the first Moe Ager Hoop School camp in Hanoi on June 22. — Photo courtesy of Moe Ager Hoop School
The sport's popularity has soared across Vietnam in the last few years, and more and more young athletes are dreaming of becoming the next LeBron James rather than the next Cristiano Ronaldo.
Luckily for the young hoopers of Hanoi, there's a man in the capital who's already lived the NBA dream and taken on LeBron toe-to-toe.
Now, Maurice Ager is making it his mission to give Vietnamese kids the chance to follow in his footsteps.
Decorated career
Born and raised in Detroit, Michigan, Maurice 'Moe' Ager is probably the most accomplished basketball player to ever call Hanoi home.
After playing against and alongside James at various camps as a youth, Ager played four years at college basketball powerhouse Michigan State, where he led the Spartans to the semi-finals of the 2005 national championships, also known as the Final Four, losing out to the eventual winners.
After a decorated college career he was selected by the Dallas Mavericks in the first round of the 2006 NBA Draft.
Ager played sparingly in five NBA seasons for Dallas, the New Jersey Nets and the Minnesota Timberwolves before retiring in 2011.
Ager during his college days turning out for the Michigan State Spartans. — Photo lansingstatejournal.com
While his NBA career perhaps didn't pan out as he had hoped, Ager shifted his focus to music and was nominated for a Grammy in 2013 for his collaborative track Far From Home.
So how did a Grammy-nominated basketball star end up in Hanoi?
"I visited Hanoi early last September and I fell in love with the culture, the soul, the people," said Ager.
He had been living in China running basketball camps since 2017, but a visit to Hanoi and a Vietnam Basketball Association (VBA) game sealed his departure from the country.
"When I went to the game at Bách Khoa (Stadium) it was packed and I was just visiting, so I made my decision right then and there," he said, adding, "it was a sight to see."
Now, having taken some time to get the lay of the land in Hanoi, Ager has started running the Moe Ager Hoop School in Vietnam's capital.
Enthusiasm
The Moe Ager Hoop School held its first basketball camp in Hanoi on June 22, consisting of a three-hour training camp for young athletes, with the next slated for July 13.
"We started off with seven or eight kids and we ended with about 30," said Ager, "they just kept coming in."
While the session consists of skill drills, competitive games and lots of teaching from Ager, the aim isn't to turn every kid into an NBA star, but to improve their confidence in an English-speaking environment, and to have fun.
"We want to kids to not be shy. We want to help them progress in all areas," he said, and while some youngsters impressed him with their skills, it was their enthusiasm for the game that gave him most satisfaction.
"I think the excitement is what I'm more impressed about, because when I was in China there was lot of kids that came to the camps because their moms wanted them to, because their parents wanted them, just to get out the house," he said.
The VND2 million (US$85) per person price of the camp helps ensure only those who want to be there attend, but Ager says the price is great value for money.
"Two-time All-American, USA basketball team, first round draft pick in the NBA, all those things, that's worth paying for," he said.
The ex-pro isn't just a teacher at the Moe Ager Hoop School though, as Ager himself gets involved in some of the games and gives the kids a chance to play with him, something he says excites them and boosts their confidence.
"That's one of the main differences between me and other NBA players who do coaching, how hands on I am," he said, adding that "I don't ever remember having an opportunity to play with an NBA basketball player when I was 14, 15, I can only imagine how good that would feel."
Long haul
Ager says he's in Hanoi for the long haul and wants to blaze a trail for other former NBA stars to come to Vietnam and coach, which is why he spent almost a year settling into the city before opening his camps.
"I'm not just here to collect, I want to be able to build a basketball community here in Hanoi," he said.
To that end, Ager's camps employ Vietnamese coaches and he uses his connections in the game to help Moe Ager Hoop School graduates apply to study and play ball in high schools or colleges in the US.
As for making it to the highest level, Ager knows what it takes to make it there, and he says if Vietnam wants to be represented in the NBA, camps like his are the way forward.
"In order for them (Vietnamese kids) to make it to the NBA, they need to be taught NBA values early," he said, adding that "the best way to start early is to go through Moe Ager, to go through somebody who's actually done it."
Peter Cowan
VNS