The psychological thriller Bắc Kim Thang (Home Sweet Home) currently ranks top at Vietnam's Box Office – a website analysing ratings of films screened at cinemas nationwide.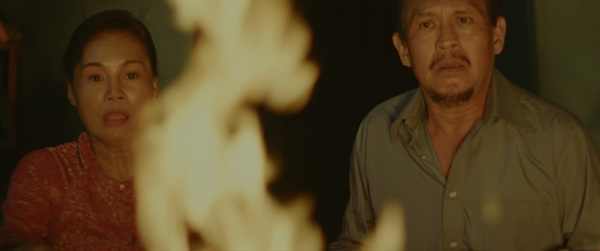 A scene in the film Bắc Kim Thang (Home Sweet Home) which currently ranks top at Vietnam's Box Office. — Photo courtesy of Galaxy Studio
The previews of the film began on October 24. Up until October 28, the film raked in proceeds of VND30 billion (US$130,000) for 410,000 tickets sold nationwide, according to Nguyen Ha from Galaxy Studio, the film distributor.
It's the debut film by director Tran Huu Tan. The film's success is based on new faces such as Minh Hy and Trinh Tai.
The film is screened at the National Cinema Centre, August Cinema (Hanoi), CGV Cinemas, Lotte Cinemas and Galaxy Cinemas across the whole country.
It's the only Vietnamese film screened for Halloween this year. Other foreign films include Maleficent 2: Mistress of Evil, The Addams, Zombieland 2: Double Tap, Countdown and Land of Mine.
"While Western thrillers have Annabelle or Chucky as horror symbols, Vietnam still lacks representatives for its horror film culture. In this film, we bring a scarecrow to the film to make it a highlight for the horror theme," said director Tan.
"In spite of the title Home Sweet Home, we hint at a scary story hidden in a family," he said.
Film producer Hoang Quan said blockbusters of Vietnamese cinema are often comedies. This is the first time a thriller ranks top at the national box office.
"It proved that audiences are always eager for new things in the national cinema," he said. "I was impressed by the plot twist at the end of the film."
On average, the film is screened 10-15 times each day. CGV Giga Mall Thu Duc Cinema is putting on 23 shows for the weekend.
Before the screenings in Vietnam, the film made its debut at the 24th Busan International Film Festival early this month. VNS