The Republic of Korea (RoK)-based ASEAN Culture House (ACH) is holding a film festival showing films from ASEAN countries including Vietnamese movie Hai Phuong (Furie).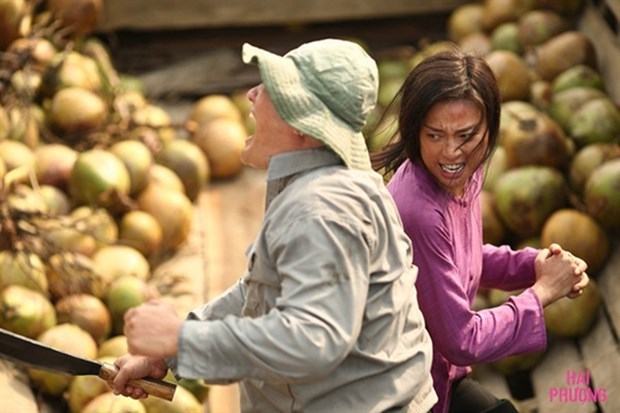 A scene from "Furie".
Entitled ' ASEAN Cinema Week - ASEAN Cinema NOW !' the festival openson November 1 in Seoul to celebrate the ASEAN - Korea Commemorative Summit fromNovember 25-26 in the Republic of Korea.  
"It is my sincere hopethat we will come to better understand the diversity of ASEAN culture by way offilms that we may not have had access to previously," said the KoreaFoundation President Lee Geun.
The opening film willbe Friend Zone, from Thailand — the Chair of ASEAN for2019. Directed by Chayanop Boonprakob in 2019, the romantic and comedy isabout the border separating friends from lovers. 
The opening ceremony willbe held at CGV Myeongdong Station Cine Library with a presentation fromdirector Chayanop and lead actor Naphat Siangsomboon.
The ceremony will featurea celebratory performance by acapella group Maytree and a preview ofhighlights of all films to be screened.
The films such as Vietnam's Furie;Lao's The Long Walk, Malaysia's Upin & Ipin:KerisSiamang Tunggal and the Philippines' Alone/Together wereall released in 2019. 
Directed by Le Van Kiet, Furie isan action film featuring Ngo Thanh Van (Veronica Ngo). It is a story of amother's 14-hour journey in pursuit of her daughter's kidnappers.
This moving tale highlightsmaternal love and the resilient human spirit showcasing the uniquecharacteristics of Vietnamese culture. 
The film was a Vietnameserepresentative to attend the 92nd annual Academy Awards. It is also the lastfilm by Van who is regarded as one of few Vietnamese actresses to enterinto the Vietnamese action movie genre. She also appeared inthe blockbuster Star Wars - The Last Jedi in 2017.
"Veronica Ngo is also popular,"said Choi Da Hye, senior programme officer of ACH. "This film Furie isin Netflix as well and so there are many fans now."
The Malaysian film is theonly animation at the festival. The 100-minute film featurestwin brothers Upin and Ipin and their friends stumbling into afantastical kingdom.
As they try to find theirway back home, they must restore the kingdom to its former glory.
The festival will tour inBusan, Jeju and Gwangju until December 13./. VNA

An action film dedicated to motherhood, Hai Phuong (Furie), will compete for an Oscar in 2020, the culture ministry's Department of Cinema announced on September 24.