A Vietnamese play will be restaged as a Broadway-style musical by artists from HCM City's Buffalo Theatre Club this weekend.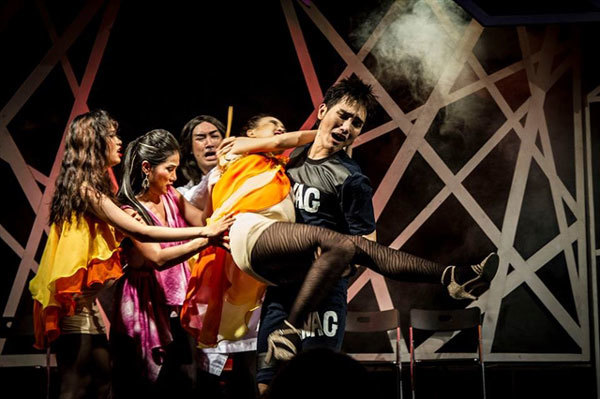 Young actors at the Buffalo Theatre Club will perform in the musical Tuyết Sài Gòn (Snow in Sài Gòn), directed by Nguyen Khac Duy, in HCM City this Christmas. — Photo courtesy of Buffalo Theatre Club
The show, Tuyết Sài Gòn (Snow in Sài Gòn), is directed by Nguyen Khac Duy, one of the founders of the Buffalo Theatre Club.
It tells the stories of four young women and men who are stuck in an elevator on Christmas Eve. They talk and share their challenges, dreams and hopes during the night.
Through their stories, the lifestyles of Saigonese are highlighted.
The show stars 20 young artists, including talents Hoang Phi, Kha Nhu, Thuan Nguyen and Diem Phuong, who graduate from leading art schools such as the HCM City Music Conservatory and HCM City Theatre and Cinematography.
The performers will dance and sing popular songs of the 1970s and 80s, such as Wham's Last Christmas, ABBA's Money Money Money, Boney M's Mary's Boy Child and Gloria Gaynorr's I Will Survive.
"Through our show, audiences can laugh but also can gain lessons," said the play's director Duy.

Tuyết Sài Gòn was first staged in 2014 and left a strong impression on audiences. In his production, Duy includes jazz, R&B, swing and pop rock.
"My dream is to develop musicals in Vietnam," said the 29-year-old.
The Buffalo Theatre Club opened in 2013 to support young actors and bring musical theatre closer to audiences.
It is known for staging Vietnamese versions of original musical works, such as Chicago, Red Snow and High Musical Music.
The club's first Vietnamese play, Tấm Cám, was staged in 2016 in a Broadway style.
The play tells the life of the orphan Tam, who is beautiful and hardworking, and has kind words for people and animals.
She lives with her stepmother and half-sister Cam, who always find ways to harm her. Tam finally marries the Prince.
Directed by Duy, who composed 15 songs for the play, Tấm Cám featured a humorous style with a focus on humane values.
Duy's previous musical, Thủy Tinh Và Đứa Con Thứ 101 (God of the Water and his 101st Kid), was released last year. The director spent more than VND2 billion (US$87,000) on the production.
The work is based on the Vietnamese myth Sơn Tinh-Thủy Tinh, (God of the Mountain-God of the Water), which explains the origin of storms and floods.
The Broadway-style musical, Tuyết Sài Gòn, will be performed at 8pm on December 22 at Thế Giới Trẻ Stage on No. 125 Cong Quynh Street in District 1. Tickets are available at the box office. — VNS

A Vietnamese musical, "Love Boat", will be staged at HCM City's World of Youth Drama Stage every Satruday in October and November.