Vietnamese young player, Tong Thai Hoang An, clinched the silver medal in the U8 girls' blitz event of the 3rd World Cadets Rapid and Blitz Chess Championships, which concluded in Belarus on August 18.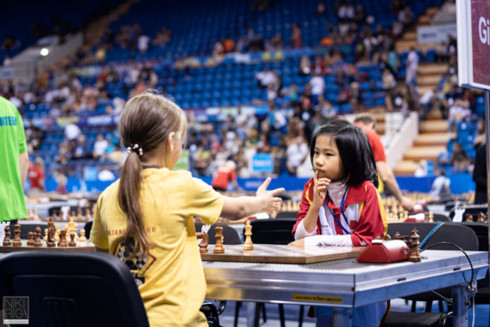 Vietnamese young player Tong Thai Hoang An (Photo: FIDE)
An, who was the winner of G8 (under eight-years-old) category of the Asian Youth Chess Championships 2019, suffered only 1 loss after being beaten by Diana of Russia, who won the gold medal at the blitz event.
With 7 wins, 1 draw, and 1 loss, the Vietnamese chess player, (Elo rating 1196), earned 7.5 points and secured the silver medal.
Another Vietnamese player, Nguyen Mai Chi, at the event won the bronze medal.
Ho Ngoc Vy, was another brilliant player and competitor at the event. She competed at the U10 girl's event, earning 8 points.
Despite having the same points with Afruza of Ukbekistan and Evgeniia of Russia, Vy only ranked third and brought home the bronze medal due to tie-breakers.
The Vietnamese chess players are due to fly to China on August 19 to compete in the standard category of the World Cadet Chess Championship 2019. VOV