The standard chess category at the ongoing ASEAN+ Age-Group Chess Championship saw many of the nation's players dominate, as they claimed 31 golds, 17 silvers, and 14 bronzes.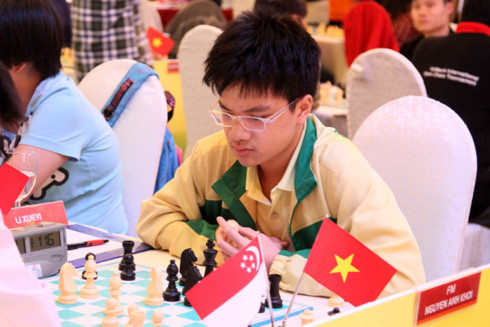 Talented-young chess player Nguyen Anh Khoi 
The Vietnamese team finished in first in the standard chess category which concluded on June 16.
Talented-young chess player Nguyen Anh Khoi enjoyed a number of impressive performances at the tournament, with eight wins and one draw. He earned a total of 8.5 points, one point higher than the second-ranked player Miciano John Marvin of the Philippines.
Khoi earned the additional standard of the International Grandmaster title following the tournament. The positive result helped the youngster gain three standards and he has been named among the top players with an Elo rating over 2,500 to officially obtain the title of International Grandmaster.
Other chess players, including U16 Dao Minh Nhat, U12 Hoang Minh Hieu, U10 Nguyen Thai Son, and U8 Nguyen Manh Duc, also gained significant achievements.

Female chess players, such as U16 Bach Ngoc Thuy Duong, U12 Nguyen Le Cam Hien, and U20 Dong Khanh Linh, also showed their talent by finishing among the highest positions at the tournament.
The Vietnamese chess players will compete in the rapid and blitz events at the competition today. VOV

Vietnamese chess player Le Quang Liem enjoyed victory in the standard event of the Asian Continental Chess Championship 2019 which took place in China, the first time he has won the tournament.  

Vietnamese Grandmaster Le Quang Liem ranked fifth at the Asian Continental Chess Championships 2019 in Xingtai, China on Thursday.  

Nguyen Anh Khoi and Pham Le Thao Nguyen triumphed in the National Chess Championship in the northern province of Bac Giang on Thursday.