Poet Tran Le Khanh's latest book, Sự Bắt Đầu Của Nước (The Origin of Water), will be published in the US next year.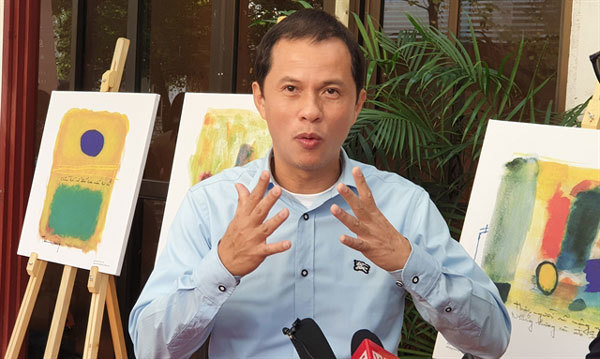 Poet Tran Le Khanh talks about his poems at the meeting. — VNS Photos Thuy Tinh
The book will be printed with a collection of 12 paintings illustrated by Nguyen Quang Thieu, vice chairman of the Vietnamese Writers Association, who draws inspiration from Khanh's poems.
Khanh hosted a meeting with readers and students at the Ha Noi Culture University before introducing his new work. The illustrative paintings by Thieu are also on display at the university.
Many writers and critics attended the event to recite Khánh's poems and discuss his ideology.
Khanh was born in 1971 in the northern province of Hoa Binh, and currently he lives and works in HCM City. Since 2016, he has published five books, and some of his poems have been adopted for music by composer Quoc Bao.
Before engaging in literature and art, he started the career as a financial analyst certificated by the Chartered Financial Analyst Institute (US) and the HCM City Economy University.
He focuses on two genres of poetry, free style and lục bát (six-eight-word distich metre, a traditional verse form in Vietnamese poetry).
Thieu said he had found fresh things and a different spirit in Khanh's poetry.
"In the free style genre, Khanh seems to follow minimalism with short sentences, so the whole poem doesn't have many words," said Thieu.
"His single words are like seeds growing in the souls of readers, small seeds that will turn into a big green tree."
"His poems are precise, giving clear images and messages with truthful emotion. And there is always a philosophy inside those words."
"Lục bát is a traditional genre of Vietnamese poetry, but Khanh knows how to breathe new life into it," said Thieu.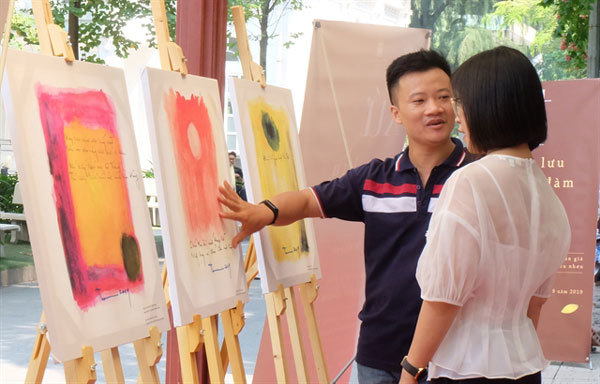 Visitors contemplate paintings by Nguyen Quang Thieu inspired by Khanh's poems.

The book has been translated into English by American poet Bruce Weigl, who has strong links with Vietnamese authors, and is considered a bridge between Vietnamese and American literature.
"Khanh doesn't use poetry to tell happiness and sorrow, he doesn't follow romanticism or zen, his poems are definitely not relating to politics or religion," said Weigl.
"It's easy to realise the layers of beauty in his poems. It's special because the minimalised poems can express all humane meanings and philosophy about life."
Tran Le Khanh said he felt confused when people asked him why a financial analyst could become a poet.
"I don't want people to call me an analyst or poet. It's just my cover. Writing poems helps me find myself, my personality. It's a journey on which I don't try to find as many readers as I can, I just find confidence in people who understand me."
VNS