Swimmer Nguyen Huy Hoang starred again for Vietnam on Thursday by winning gold and setting a new SEA Games record at the New Clark City Aquatic Centre.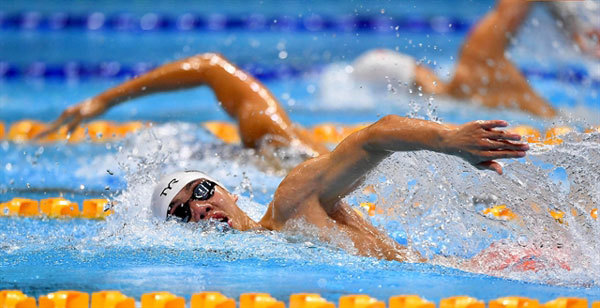 Nguyen Huy Hoang swims in the men's 1,500m freestyle at the 30th SEA Games. Photo sport5.vn
Hoang smashed the field in the men's 1,500m freestyle in a time of 14min 58.14sec, more than 17 seconds ahead of Aflah Fadlan Prawira of Indonesia and his Vietnamese compatriot Nguyen Huu Kim Son, who finished in 15:18.87.
Hoang smashed the old record of 15:20.10 he set two years ago in Malaysia.
He also reached the Olympic A standard time of 15:00.99 to earn a berth to compete at the Tokyo Olympics next year.
Hoang has also qualified for 800m freestyle at the World Championships in South Korea in October.
"Breaking my own record is great. It is a sweet result I have earned after working very hard to prepare for the Games," said Hoang.
"It is time I contributed to the country and push myself," he said.
Vietnam's team leader Tran Duc Phan said: "The coaches told me he could win gold and an Olympic spot prior to the Games. He is a special athlete.
"He will receive more support to go to the next level. I believe Hoang can do something in Tokyo."
Shortly after Hoang, Tran Hung Nguyen brought home gold in the men's 200m individual medley.
The SEA Games freshman won in a time of 2:02.56.
Singapore's Chua Yi Shou Darren was a close second with 2:02.73, and Indonesia's Sidiq Triady finished third, clocking 2:02.81.
"I am happy because it is my first time at the SEA Games and I've won gold," said Nguyen.
"I was nervous but my coaches did a good job to lift me up. This gold was not part of my plan," added Nguyen, who confirmed that he would race in the men's 400m medley later.
In the pencak silat event, the first gold for Vietnam on Thursday went to Tran Thi Them.
Them defeated Kause Jeni Jeni of Indonesia in the women's U55kg final.
It was revenge for the Vietnamese artist who was beaten by Jeni at the Asian Martial Arts Games in August in Thailand.
Another gold went to fencer Nguyen Tien Nhat who triumphed in the men's individual epee event. He defeated Malaysian Koh I Jie 15-5 in the final.
Vietnam are also guaranteed their first gold medal in tennis, after Daniel Cao Nguyen and teammate Ly Hoang Nam set up an all-Vietnamese men's singles final.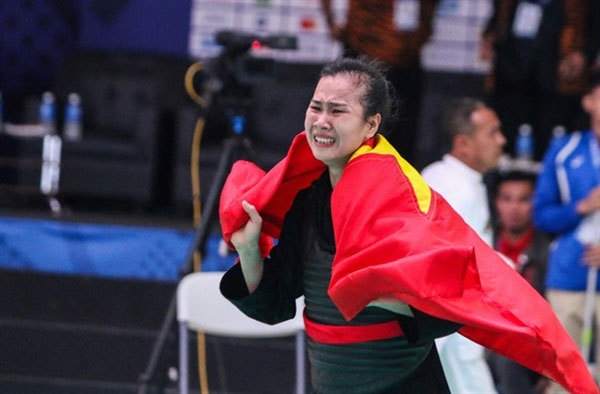 Tran Thi Them celebrates her gold medal in the women's 55kg pencak silat. Photo plo.vn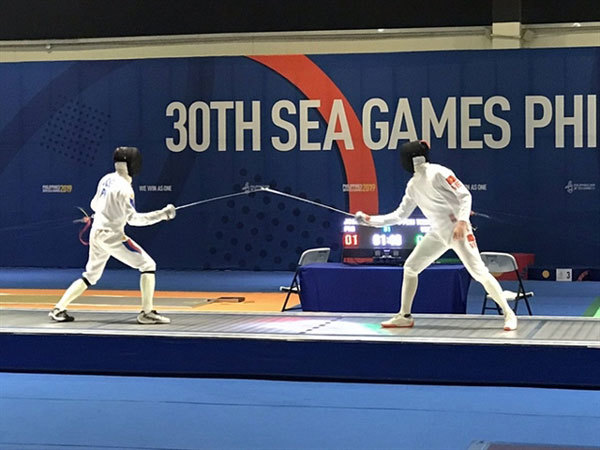 Nguyen Tien Nhat of Vietnam (right) wins a gold in the men's individual epee event. Photo
zing.vn
"The second set (of semi-final) was very tough. (There were) a lot of ups and downs so I am very happy to get the win," said Nguyen after beating Alberto Lim of the hosts 6-3, 6-4.
"This win is for my country, my family and myself. I just want to make my country proud so I keep fighting.
"I am excited to be in the final. Nam is a great player. We both play for the country so we will play at our best tomorrow," he said.
On the other side, Nam who came from behind to beat Filipino Jespn Ysores Patrombom 5-7, 6-1, 6-3, said: "I am really happy to be in the final for the first time.
"The last SEA Games I lost to a Thai player in the semi-final, missing my chance to win gold. I was under pressure today and lost the first set, but I found my form and managed to win.
"Daniel has been playing professional tennis longer than me. He is more experienced than me. I have lost to him twice. I have nothing to worry about. We will both try our best and it will be a great match," he said. VNS

Vietnamese athletes brought home four more gold medals at the SEA Games 30 on December 5, helping the country maintain the second place on the medal tally.

Vu Thanh An, the no. 1 fencer in Southeast Asia, has been assigned to hold the national flag for the Vietnam sports delegation at the opening ceremony of the 30th SEA Games.