In recent years, Vietnamese track and field athletes have achieved a lot of success in domestic and international competition, but to go further, training young athletes has to be prioritised and supported from many sources.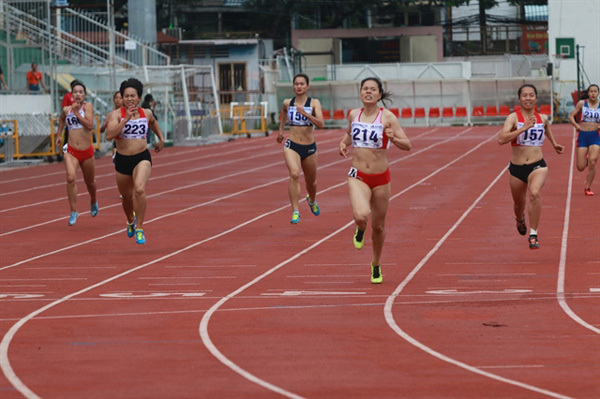 Athletics is gradually becoming a spearhead of Vietnamese sports. Photo nld.com.vn
Track and field athletes secured 17 gold medals in the 2017 Southeast Asian (SEA) Games and 16 in last year's Games, while Bui Thi Thu Thao won a gold medal at the Asian Games in 2018 in the women's long jump.
According to Tran Duc Phan, deputy director of the National Sports Administration, to keep the success going, training young athletes is important and typically Hanoi-based facilities play the key role in youth training.
Deputy Director of Hanoi Sports Competition and Training Centre Lai Phuc Loc, who is directly in charge of track and field, said to have a qualified youth team for national and international competitions, every year, the centre has to organise many selections from districts and towns for the age group of 10 - 12 years old. In addition, the centre also searches for talents at underage tournaments.
"Each year we select from 30 to 40 athletes, then choose about 20. Depending on each athlete's skills, the centre will focus on different contents," said Loc.
"Joining the Hanoi athletics team since the age of 15, I have been cared for by the coaches like family members, so I feel comfortable and try my best in training so that when there are tournaments, I will devote myself," said athlete Tran Van Dang.
Sustainable development goals
Unfortunately, youth training in track and field is also facing many difficulties.
According to Loc, recently, the number of athletes pursuing track and field has dropped. Each year, the Hanoi team only recruits from 15 to 20 athletes, which means there is a limited pool from which to select the national team.
In addition, the national competition system only has one or two junior tournaments per year, so young athletes have little chance to compete and improve their skills.
According to the head of the athletics section of the Hanoi Sports Competition and Training Centre, Nguyen Bich Van, the quality of athletes recruited into the gifted class is not as high as in previous years.
Duong Duc Thuy, head of the athletics section of the National Sports Administration, said one of the difficulties of the current youth training is the lack of synchronisation from the central to local level in training because each place has a different lesson plan. In addition, funding for youth training is limited.
Thuy said to overcome these difficulties, the Vietnam Athletics Federation and National Sports Administration are building a strategic training plan for the long term including training coaches and organising seminars with experts.
Loc added that it is necessary to increase the number of youth tournaments in the national competition system to give athletes more opportunities to improve their skills.
Phan, deputy director of the National Sports Administration, said to develop sustainably as well as reach higher goals, Vietnamese track and field should give federations and associations from central to local levels more autonomy to seek private funding. As a result, it will enrich the resources for the long-term development of Vietnamese athletics.
"In addition, Vietnamese athletics should actively co-ordinate with the education and training sectors in recruiting and discovering talents through school sports tournaments. From here, helping Vietnamese track and field have a force of powerful and talented athletes, contributing to asserting the key position of Vietnamese sports," said Phan.  VNS

The first Vietnamese athlete to clinch a spot in the country's 2020 Tokyo Olympics team, swimmer Nguyen Huy Hoang then suffered the disappointment of seeing the world's largest sporting event delayed by a year due to the coronavirus outbreak.

Athletes will compete in up to 40 different sports when Vietnam hosts the Southeast Asia (SEA) Games in Hanoi next year.