The Vietnamese women's national football team have been awarded a bonus totaling VND2.5 billion following their progression to the final round of the 30th Southeast Asian (SEA) Games 30.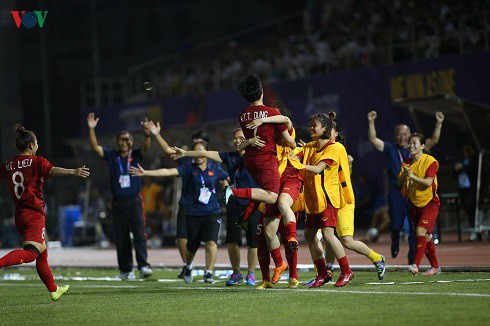 Vietnamese women's football team receive large bonus 
Of the figure, VND1.5 billion of the money came directly from the Vietnam Football Federation (VFF), while VND1 billion was received from Pham Thanh Hung, the VFF's head of women's football.
The sum was given as a way of acknowledging their outstanding contributions to the women's game nationally and thanking the players for their strong performances in each tie at the SEA Games. One of the team's notable victories came in the form of a 2-0 win over host nation the Philippines to earn a slot in the final round.
Vietnam are set to take on Thailand in the final of the tournament, which is scheduled to take place at 19:00 (local time) on December 8.
If the Vietnamese women team are able to enjoy a victory over their Thai rivals to bring home a gold medal, they will definitely receive more large bonuses from both individuals and sponsors. VOV

Vietnam's women's football team have advanced to the finals of SEA Games 30' women football by defeating the hosts Philippines 2-0 on December 5.