An exhibition displaying 120 vintage fashion items from the 1890s to 1990s has opened at the HCM City Fine Arts Museum.
Exhibition honours local fashion makers in Hanoi
Vietnam's fashion enters the world market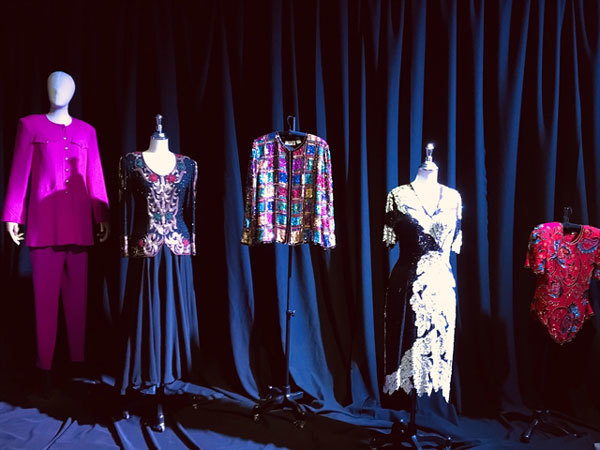 Sequin designs from the 1980s are on display at the "Beauty of Yesterday" exhibition at the HCM City Fine Arts Museum. VNS Photo by Phuong Mai
The exhibition themed "Beauty of Yesterday" was organised by the Viet Nam Fashion Academy (VFA) to launch a series of exhibitions on fashion in Vietnam.
On display are dresses, suits and hats, reflecting a hundred years of fashion history. The items are from VFA's 10-year-old collection.
The first part of the exhibition displays designs from the 1890s to 1940s, highlighting dresses at the end of the Victorian Era, flapper dresses from the 1920s, satin dresses from the 1930s, and suits from the 1940s.
The second part showcases designs by famous designers like Christian Dior, Valentino, Christian Lacroix, Yves Saint Laurent, Vivienne Westwood, Thierry Mugler, Ralph Lauren and John Galliano from the 1950s to the 1990s.
The highlights are a sequin dress from Yves Saint Laurent, a safari jacket from Ralph Lauren, a blouse from Vivienne Westwood, and trousers with a newspaper pattern by John Galliano.
The exhibition includes written descriptions from students at VFA.
Huy Vo, director of VFA, said: "With 'Beauty of Yesterday', the VFA wants to elevate artistic tastes among the Vietnamese, and offer experiences in culture, art, history and fashion to viewers."
VFA has sought cooperation with experts, local and foreign arts to bring other exhibits to the Vietnamese people in the near future, he said.
The exhibition also showcases fashion illustrations by American designer and illustrator Nancy Riegelman, who is currently a lecturer at VFA.
She studied at the University of California-Berkeley and the University of California-Los Angeles, and the Art Center College of Design, also in California.
She has had several solo and group exhibitions on fashion illustrations in the US, France and South Korea, and has taught at universities and arts schools in the US, France, Japan, China, India, and Russia.
The organiser has set up a room to explain the steps in design, and a screening room for classic fashion films.
Three workshops will be organised, including "Made in Vietnam" with designer Vo Thao on July 8, "Understand Luxury Fashion" with Nga Dang and Ngoc Nguyen on July 11, and "Understand Construction of Fashion" with Huy Vo on July 13.
The exhibition will close on July 14. The HCM City Fine Arts Museum is at 97 Pho Duc Chinh Street in District 1.
VNS