Hanoi has joined 65 other cities as a new member of the UNESCO's Network of Creative Cities.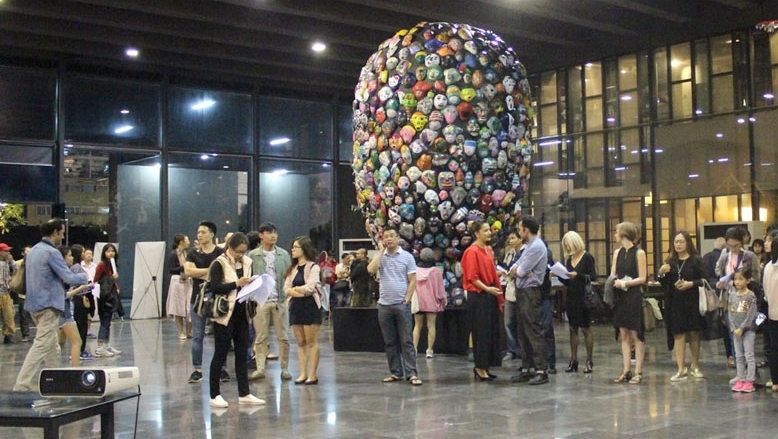 An exhibition at the Heritage Space in Hao Nam street, Hao Nam district 
Over the past years, thanks to its rich cultural tradition, Hanoi has become an incubator of initiatives and creative spaces, of which operations have promoted the 'Creative City' title of the capital city.
Promoting inspiration and connectivity
Dearly nicknamed as "Hanoi's smallest cinema", O Kia Hanoi creative space in Hoang Hoa Tham street, Ba Dinh district provides weekly film screenings every evening from Friday to Sunday.
Do Viet Dung, a cinema-goer from Kim Ma street, Ba Dinh district, said he loves watching movie in the space as the films on screen are carefully selected so that they can connect the audience together and spread a more positive view of life among them.
After the screening, the audience can also exchange talks with artists and cinema enthusiasts, which helps to inspire the love for the Seventh Art.
Meanwhile, various activities are taking place at the Heritage Space in Hao Nam street, Hao Nam district within the framework of the Month of Art Practice (M.A.P) project, which runs from October 10 to November 22.
The project has been held annually since 2015 with the aim to create a foundation for art practice activities, exchange, education and exhibition between international professional artists and young Vietnamese artists.
It is also sought to keep local audience updated on new trends within contemporary art in Vietnam and the world and promoting their interaction with the arts.
In addition to O Kia Hanoi and Heritage Space, many other creative spaces in Hanoi have operated effectively, bringing together organisations and individuals who have a common passion for the arts.
They include the Vicas Art Studio in Dong Da district, which supports innovative initiatives and experimentation of contemporary art in Vietnam, and the Centre for Assistance and Development of Movie Talents (TPD) in Hoan Kiem district, which provides training courses on scriptwriting, filming and acting.
Commitments of proper support for creative practices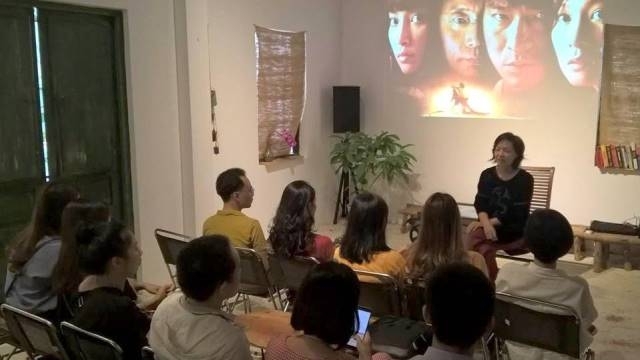 Director Nguyen Hoang Diep joins a group discussion with audience after the screening at Okia Cinema (Photo: Okia Cinema)
According to the British Council in Hanoi, Hanoi is leading the country in the number of creative spaces with 60/140 models, which various in forms of fine arts, fashion, architecture and cinematography.
Pham Thi Lan Anh, Head of the Cultural Management Office under the Hanoi Department of Culture and Sports revealed that together with traditional and available spaces such as the Thang Long Imperial Citadel, the Temple of Literature, and more than 170 museums, libraries, theatres, and cinemas, the newly-established creative spaces have made positive contributions to popularising creative designs.
Hanoi has established itself as a creative hub which helps to increase the charm of the city in the eyes of visitors. Hanoi won the UNESCO title as a Creative City which has opened up more opportunities for the municipal authorities to advertise its images regionally and internationally.
To realise the goals, the city should complete its policy to facilitate the operation of creative spaces, creative entrepreneurs, and creative thinkers, as suggested by President of the Vietnam Creative Entrepreneurs Club (VCE Club), Le Quoc Vinh.
Meanwhile, Tran Thi Thanh Thuy, an official from the UNESCO Office in Vietnam, stressed that creative spaces can balance the harmony between preservation and development while blending fresh vitality to areas where the spaces are located.
Soon after receiving UNESCO recognition, Director of Hanoi Department of Culture, Sports and Tourism To Van Dong reaffirmed that Hanoi will realise its commitments to UNESCO through a long-term action plan and detailed strategy to connect the city's dwellers with its cultural and innovative practices.
Programmes that link Hanoi with other UNESCO's Creative Cities will be designed at the same time, he added.
He also pledged for the establishment of more creatives spaces in the city as well as more start-up programmes that support innovative initiatives in the near future. Nhan Dan

Hanoi was designated as part of the UNESCO Creative Cities Network on October 30, according to the municipal Department of Culture and Sports.

Hanoi Creative City is the largest creative complex in Hanoi. Launched in September 2015, it brings together organisations, businesses, individuals, products and services as well as creative activities.