Although Vietnam's karate team will be without three key athletes, they're aiming for four gold medals at the upcoming Southeast Asian (SEA) Games.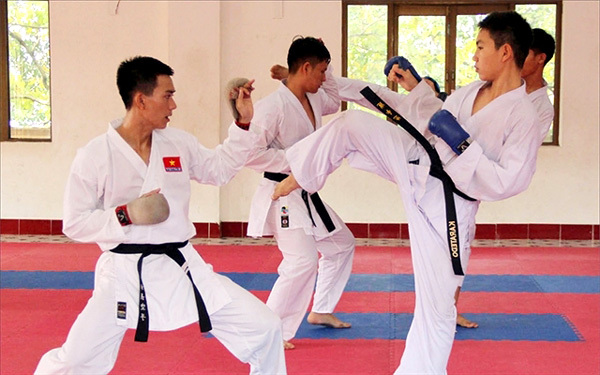 Vietnam karate team train to prepare for the upcoming Southeast Asian Games. Photo nhandan.com.vn
Nguyen Thi Hong Anh and Nguyen Minh Phung have retired to become coaches, while Nguyen Thi Ngoan in the Kumite (combat) category is struggling to build up her mental fortitude, so none will compete in the Philippines later this month.
Two years ago, Anh and Phung won two gold medals at the SEA Games in Myanmar. While SEA Games bronze medallist Ngoan is the world's leading athlete in the women's Kumite 61 kg category. Ngoan bagged gold at the Karate 1-Premier League in Halle/Leipzig, Germany in 2017, making her the first Vietnamese martial artist to win the top title in the prestigious tournament.
"We lost three key members. It is a difficulty for the team. They are experienced practicioners and gained high results in international events. However, we have other athletes who are skilled enough to shoulder their duties," said coach Mai Xuan Luong.
"The training board still aims to get four gold medals like the previous Games. I hope that Kumite will bring home two or three golds. In this Games, the organising board cut many weight categories which are Vietnam's strong point but our target doesn't change," Luong added.
According to Luong, Vietnam will send 15 martial artists and four coaches to the Games including nine fighters in Kumite and six in Kata (performance). Athletes will begin their competition on December 7-9.
To prepare for the Games, Kumite team members are training in Iran until November 22. Following this training, they will return the Hanoi-based National Sports Training Centre before leaving for the Philippines.
The nine-member Kumite team includes Dinh Thi Huong, Trang Cam Lanh, Ho Thi Thu Hien, and Bui Thi Thao (female), as well as Nguyen Van Hai, Dang Hong Son, Nguyen Thanh Duy, Chu Duc Thinh, and Do Thanh Nhân (male).
Luong said among them, Hien and Nhan are expected to shine. Both Hien and Nhan bagged gold medals in the Games in Myanmar.
Olympics dream
Luong said Vietnam prepared for the regional biggest sport event as well as the 2020 Summer Olympics when karate was put into the competition programme for the first time.
"We have worked for a long time and invested strongly for Ngoan. However, she is having some issues, so she retired. Vietnam nearly don't have a chance in Kumite. The training board now puts its hopes on Nguyen Thi Phuong in the Kata event," said Luong.
Phuong took gold medal for the women's Kata team in the SEA Games two years ago. She also took a bronze at the Asian Karate Federation Senior Championships in Tashkent, Uzbekistan in July.
To qualify for the Olympics, a karateka must rank in the world's top 10.
According to Vu Son Ha, head of karate section of the National Sports Administration, Phuong has been given chances to compete in many international tournaments in the two past years to qualify for the Olympics in Japan.
"At present, there are many athletes from Japan, Spain and France in the world's top 10. Phuong is out of the top 10 but she has a chance to get to the Tokyo Olympics via an event held in France in May next year," said Ha.

Vietnam won bronze at the K1 Premier League, Shanghai leg, which closed on Sunday.

Vietnam won three bronze medals at the 16th Asian Karate Federation Senior Championships which closed on Sunday in Tashkent, Uzbekistan.
VNS