The Vietnam film industry has been seriously affected by COVID-19 in recent months. Film producers had to stop filming or postpone releases of their movies.
But the industry is showing signs of recovery with a number of new movies set to be released during the year-end festive season.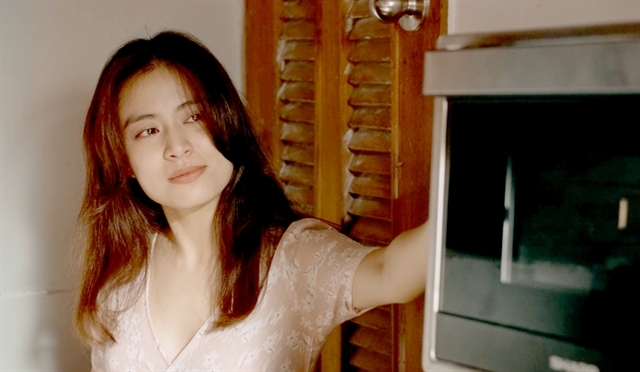 Actress Hoang Thuy Linh plays a single mom in WePro Entertainment's crime thriller Trai Tim Quai Vat
"The success of movies Ròm and Tiec Trang Mau (Blood Moon Party) released last month will motivate local film producers to show their new films in cinemas now," a representative of CGV Cinema Vietnam, one of the country's leading cinemas, said recently.
Private film studio WePro Entertainment's crime thriller Trai Tim Quai Vat (A Monster's Heart), for example, is expected to enrich the country's film market, which is still dominated by rom-com and horror movies.
The film's director Ta Nguyen Hiep told local media that it is based on a true story about a murder in a downgraded apartment building in HCM City. "It took me six years to turn the story into a film," he said.
There are four suspects: a single mom, her boyfriend, chief of the residential area, and a faded celebrity, who are all residents in the building, he said.
In the film, the director focuses on the life of four suspects to seek answers to his question: "How does the murderer face his or her soul?"
Hiep invited actors Hoang Thuy Linh, B Tran, Hua VI Van and Trinh Thanh Binh to play the roles of the four suspects.
"Characters in A Monster's Heart are a challenge for the actors because they are completely different from the roles which they had previously played. With years of experience, all actors have fulfilled their roles very well," he said.
Director Hiep, 38, is a graduate in film and directing from the HCM City College of Theatre and Cinematography (now the University of Theatre and Cinematography).
He is known for short films featuring family, lifestyle and thriller topics.
His thriller short film Phia Sau Cai Chet (Behind the Death) won the Grand Jury Trống Đồng Award for best short film at the 2011 Vietnamese International Film Festival (ViFF) in Los Angeles.
A Monster's Heart is Hiệp's first feature film.
Film and music producer Nguyen Quang Huy, founder of WePro, praised Hiep and said their new film would lead to the development of crime films in Vietnam.
A Monster's Heart is set to begin screening at nationwide cinemas on November 13.
The long-awaited film Chi Muoi Ba: 3 Ngay Sinh Tu (Sister Thirteen: Three Deadly Days), a production of Galaxy Media and Entertainment and Thu Trang Entertainment, will officially be released on December 18.
The comedy action film was planned to be in cinemas on March 27, but had to be postponed due to COVID-19.
The work is the latest sequel of Chi Muoi Ba: Phan ket Thap Tam Muoi (Sister Thirteen: The New Chapter), released in March 2019, earning VND62 billion (US$2.67 million), with production cost of only VND20 billion ($861,000)
The sequel continues the story about a female gangster, Muoi Ba, and her gang members.
When a member of her gang is suspected of killing the younger brother of another gang leader, Mười Ba has only three days to find the true killer and prove the innocence of her gang member.
The film is co-directed by To Gia Tuan and Khuong Ngoc, starring comic actors Thu Trang and Tien Luat, and Kieu Minh Tuan.
Thu Trang, 36, who is also the film's producer, said: "It's time for Vietnamese movies with good content and high quality to be introduced to nationwide audiences."
Trang, a graduate of the HCM City College of Theatre and Cinematography in 2004, has been invited to act by popular city theatres like 5B, Phu Nhuan and The Gioi Tre.
The actress has also acted in many movies by famous directors such as Victor Vu and Charlie Nguyen.
In 2016, she played a leading role in a family drama movie Nang (Little Sunshine) and its sequel Nắng 2 (Little Sunshine 2) in 2017, focusing on motherhood.
In 2018, Trang released her first film production, three-episode web drama Thập Tam Muội (Young Sister 13), which was later developed into the movie Chi Muoi Ba.
The web drama has attracted a total of 144 million views on YouTube.
Along with Trai Tim Quai Vat and Chi Muoi Ba: 3 Ngay Sinh Tu, the festive season will see the release of new movies, such as romantic drama Sai Gon Trong Con Mua (Sài Gòn in the Rain), and rom-com Nguoi Can Quen Phai Nho (What We Got to Remember).
All of the films are expected to entertain audiences during the Christmas and New Year holidays.
A movies lover, Nguyen Kim QUyen, said: "I am excited to enjoy good films with my friends in the cinema. Watching films at home is interesting, but sharing feelings with the crowd is more exciting."
High revenue
Film producers and directors have been working hard to bring Vietnamese films to the big screen, and the work has paid off.
Released on September 25, Rom, a C18-labelled film from director Trần Thanh Huy, gained VND55 billion ($2.37 million) in 10 days.
The film revolves around the life and fate of a homeless teenage lottery vendor called Rom who dreams of earning enough money to find his biological mother.
The film won the top award in the New Currents section at the Busan International Film Festival 2019, together with the Iran-Qatar co-production Haifa Street.
The comedy Blood Moon Party, a remake of the original version from Italy titled Perfetti Sconosciuti (Perfect Strangers), earned VND45 billion ($1.9 million) one week after release.
The film is directed by Nguyen Quang Dung and produced by Phan Gia Nhat Linh.
It stars Hong Anh, Kaity Nguyen, Kieu Minh Tuan, Duc Thinh and Thai Hoa, all big names in the industry.
Blood Moon Party, released on October 23, is available in nationwide cinemas.
At a seminar on the film industry in September in HCM City, Ta Quang Dong, deputy minister of Culture, Sports and Tourism, said: "With high-quality movies, interesting promotions and huge support from local audiences, I believe the Vietnam film industry will stay strong and overcome the challenges caused by COVID-19.

VNS

Shooting for the film on the late songwriter Trinh Cong Son called Em và Trịnh (You and Trịnh) will begin this week in HCM City.