The International VP Bank Hanoi Marathon tournament (VHM) will open on October 20 at Ly Thai To Park, by Hoan Kiem Lake in downtown Hanoi.
 More than 5,000 runners compete in Hanoi Marathon - Heritage Race 2019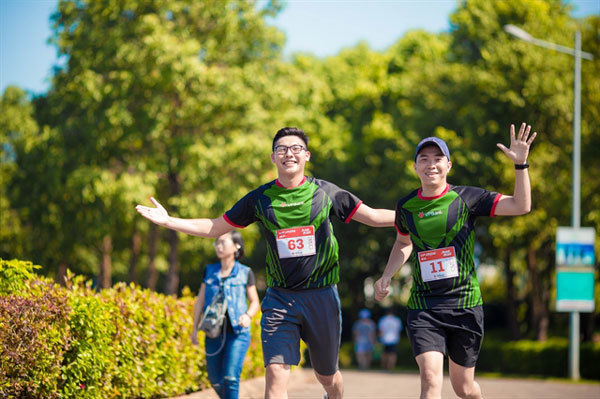 Runners at last year's VP Bank Marathon event. Photo vpbank.com.vn
The race, the second of its kind, is hosted by Đại Biểu Nhân Dân (People's Representatives) Newspaper, Ha Noi City's Culture & Sports Department, Duc Huong Anh Ltd Company (DHA) and VPBank.
Participants will run around the Old Quarter and six central districts of the city through various heritage sites including Thang Long, Long Bien, Hong Ha and Ho Tay.
The course meets the standards of the International Association of Athletics Federations and the Association of International Marathons and Distance Races (AIMS).
The organisers hope the VHM will promote the image of the Vietnamese country and people.
"The VHM is operated at an international level," said Nguyen Tri, director of DHA Company, head of the organising board. "We are inspired by various international events like the Berlin, Paris, and Tokyo Marathons. I hope the VHM will be added to the list of international marathon events and will be mentioned together with those prestigious events."
According to Do Chi Nghia, editor in chief of Đại Biểu Nhân Dân newspaper and co-head of the event's organising board, VHM is among professional race and amateur movements in Vietnam.
"The tournament will be a member of AIMS from this year," he added.
Tran Tuan Viet, a representative from VPBank said the bank will sponsor the event for ten years, which is part of the bank's strategy to bring overall prosperity in both finance, spirit and physical health to the Vietnamese people.
"Some 2,500 staff from VP Bank have been running various distances," he said. "We hope that in the near future, there will be one million runners in the country and in the next five years, VPBank Hanoi Marathon will become one of the leading events on the continent."
According to Nguyen Manh Hung, deputy general secretary of the Viet Nam Athletics Federation, after the success of the event in 2018, Vietnam, especially Hanoi, is capable of hosting international-standard marathons.
He said the organising board will invite top marathon runners and athletes to attend the event.
VNS