Vietnam's no. 1 female shuttler, Vu Thi Trang, saw off top seed Brittney Tam 2-1 in the final on December 22 to claim the women's singles title at the 2019 Yonex/K&D Graphics International Challenge Tournament in the United States.
Vietnam's no. 1 female shuttler Vu Thi Trang. 
World no. 54 Trang got off to a good start winning the first set against the Canadian player with an overwhelming score of 21-14.
The no. 2 seed came close to clinching the overall triumph as she cruised to a 20-18 lead in the second set. However, Brittney Tam produced a stunning resurgence saving two consecutive match-points before completing a 22-20 comeback win.
The match was forced into a decisive third set, during which Trang displayed brilliant form to finish off the higher-rated opponent 21-11 and take the top honour. 
Earlier, Trang recorded successive victories against Shen Yan Ru (round of 32; 21-17, 21-8), Katerina Tomalova (round of 16; 21-10, 21-5), Anura Prabhudesai (quarterfinals; 21-13, 21-12) and Iris Wang (semifinals; 18-21, 21-17, 21-15).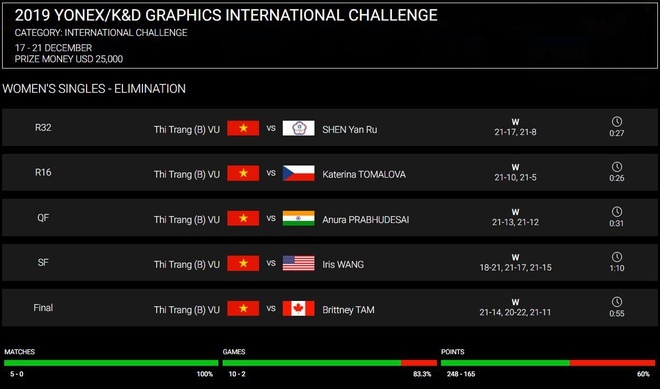 The results of Vu Thi Trang's matches at the International Challenge tournament in the US.
The US tournament also witnessed the return of Vietnam's top badminton player Nguyen Tien Minh from injuries, which had forced him to miss the recent 30th SEA Games in the Philippines. Nonetheless, Tien Minh still needs more time to get back to top form as he lost 16-21, 17-21 against Japan's Riki Takei in the second round.
Vietnamese players are actively participating international tournaments to accumulate enough points for a place in the 2020 Tokyo Olympic Games. It is almost sure that Tien Minh will secure an Olympic ticket as he currently ranks 28th among the 36 qualifiers. 
Vu Thi Trang and Nguyen Thuy Linh are competing fiercely for the only Olympic ticket for Vietnamese badminton in the women's singles category. Thuy Linh is currently rated higher than Vu Thi Trang, however, the newly won title in the US will help Trang to reduce the gap with her compatriot. Nhan Dan