Back in action after two years, speed-walker Nguyen Thi Thanh Phuc proved her worth at the National Championships by taking the title, and now has her sights set on the upcoming Southeast Asian Games in the Philippines.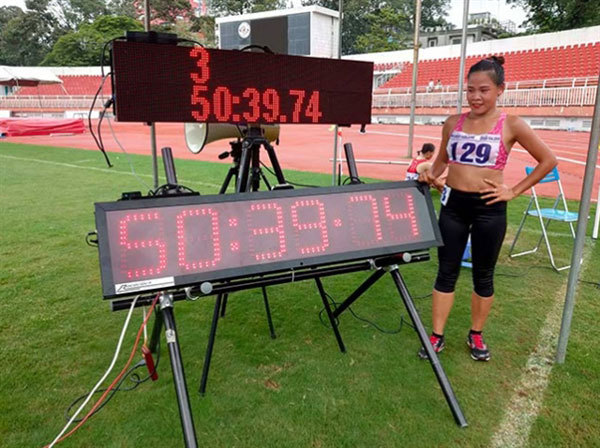 Nguyen Thi Thanh Phuc and her national record last month in HCM City. Photo www.24h.com.vn
Phuc surprised many in late 2016 when she announced her retirement after getting married and having a baby girl.
Nearly three years later she has made a surprise return.
At the national tournament last month, Phuc, 29, topped the podium in the 10km walk with a time of 50min 39.74sec, setting a new national record in HCM City.
The new time blasted her old personal best of 52:07.93 which Phuc set 11 years ago in Hanoi.
"It is difficult to describe my feelings having reached a new level in my career," Phuc said. "I have overcome many challenges to return. I am really happy with the record."
Phuc's long-term boyfriend proposed to her in 2016 and she did not hesitate after nine years together.
After she became pregnant she decided it was the right time to leave competition.
"At that time I had everything. I had held the national ttle for many years and triumphed at the SEA Games. I was in the top three in Asia and had the chance to compete at the Olympics," Phuc said.
"I have experienced and tasted the environment at all kind of tournaments, both national and international. I thought I had nothing more to strive for, so it was time to stop to care for my family."
The walker spent two years with her little girl and planned to work as a trainer for young athletes in Da Nang.
"It was when I watched the 2017 National Championships when my baby was five months old. I realised that I really love walking and wanted to walk again," said Phuc, who gained 30kg after having baby.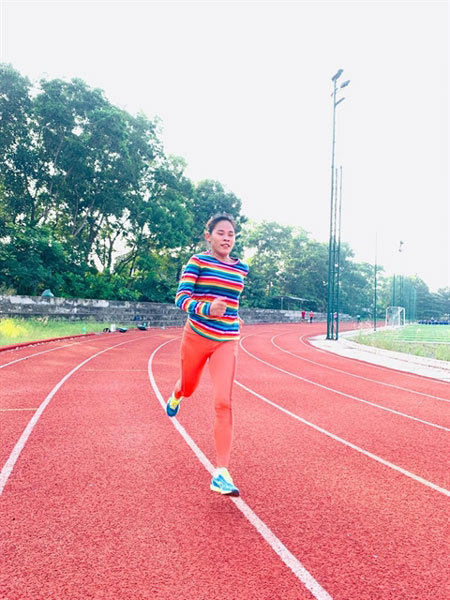 Nguyen Thi Thanh Phuc trains for the 30th SEA Games. Photo courtesy of Nguyen Thanh Ngung

Taking the free time when her baby was sleeping, Phúc started training again. Seven months later she had regained her strong physique and endurance, and her times were getting faster. She was ready.
"I didn't promise anything to my team when I decided to return at the National Sports Games last December. But in my mind, I thought I should be better," said Phuc, who then took gold without any obstacle.
Three months later she represented Vietnam at the Asian 20km Championship in Japan. The tiny walker finished seventh, leaving many taller and bigger athletes from Japan, South Korea and China behind.
At the event, Phuc was the first Southeast Asian athlete to cross the finish line with a time of 1:41.50. She left SEA Games defending champion Goh Elena Ling Yin of Malaysia behind with an 11-minute gap.
At the national tournament last month, Phuc easily led from the start and dominated had she had done from 2008-16.
"Prior to the tournament, I didn't really think about the record, which was good because it helped me relax. It seems the good weather and stress-free helped me," she said.
Phuc has now turned her attention to the regional SEA Games 10km race where she wants to prove her ability one more time.
"It (50min 39.74sec) is my personal best but the national championships is not my main goal. I am heading to the 30th SEA Games in the Philippines this November and I will try my best for gold," she said.
"Phuc is talented athlete. She has good endurance and a great respiratory system that not many athletes have. She is also determined and always focuses 100 per cent on what she does," said coach Tran Anh Hiep who has been with Phuc since her first steps in 2004.
Hiep knew his athlete could easily win at the national event, and also believes she can win the SEA Games title.
"She will do it. She has the potential to win the race and cut her PB by around 48min in the Philippines if everything goes well," Hiep said.
He has even set his sights on the Asian Championships in early 2020 where Phuc will compete to qualify for the 2020 Olympics in Tokyo.
To take her berth, Phuc must walk 20km in about 1hr 31min or finish in the top three.
"She was seventh this year but I think she could make the top three as she has done in the past," Hiep said.
In 2012, Phuc grabbed a bronze and qualified for the London Olympics. A year later she improved with a silver medal.
"I have not thought that far ahead, but it is my way. I always set a target and try my best to reach it," she said.
"I'm focused on the SEA Games. I can't say much more than work hard and set yourself a big target to beat." VNS
Thanh Ha