People's Artist Trung Hieu, director of the Hanoi Drama Theatre, has often been asked why's no longer seen in any television series or drama.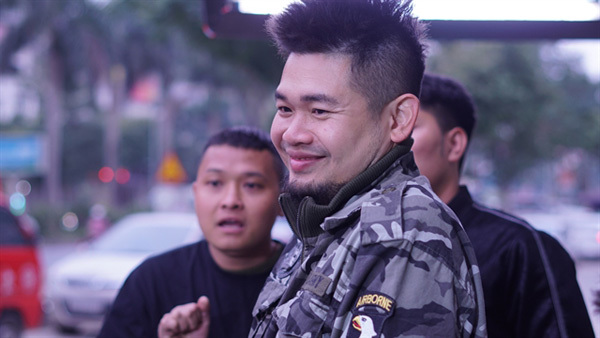 Actor cum producer of Hiệp Sĩ Làng (Knight of the Village) Chu Manh Cuong is a cheo (traditional operetta) artist. Photo courtesy of the artist
Managing the theatre keeps him so busy he doesn't normally have time to act, but his passion for acting led him to work with other artists to produce a web drama for the Tet (Lunar New Year) holiday.
"People's Artist is a noble title that means the artist should work for the people, indulging them with excellent performances. When I work as a director of the theatre, I have to work at the back. So I decided to join web drama projects to satisfy my passion for acting and let audiences see me on the screen," Hieu explained.
"A role in a TV series may take from six months to one year to complete. I can't arrange my time but a drama needs one week to one month to finish," he added.
In recent years, Hieu has taken part in two dramas, namely Đại Gia Chân Đất (Rich man from the countryside) and Mr Lù. The comedies are broadcast on YouTube and other platforms, free of charge.
Hieu is not the only artist who has gotten involved in web drama projects. Recently, artist Chu Manh Cuong announced his work entitled Hiệp Sĩ Làng (Knight of the Village) though he faced many financial troubles due to the COVID-19 pandemic. In this comedy, he works as the main actor and producer alongside 100 artists.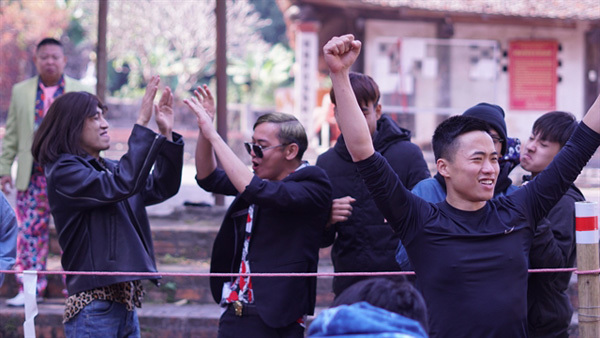 A scene in the drama Hiệp Sĩ Làng (Knight of the Village) directed by Nguyen Hong Linh. Photo courtesy of the artist
Directed by Nguyen Hoang Linh, the comedy tells the story of young men in a village who want to be heroes, but always irritate others due to their clumsiness.
Cuong graduated from university after majoring in traditional opera and singing. He currently works as a chèo (traditional operetta) artist at the Radio Voice of Vietnam (VOV) Theatre however he loves to work as a comedian.
After the premiere on YouTube, the comedy will be broadcast on some local television stations, including VOV.
Audiences have other options to enjoy during this Lunar New Year holiday, like the art performance Tết Vạn Lộc (New Year with Prosperity) produced and directed by Nguyen Cong Vuong, who is well-known for roles in comedies produced by VTV. He has worked as a producer and director for a long time.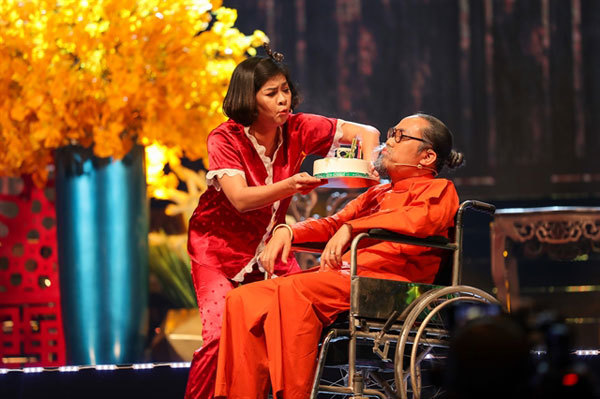 Nguyen Cong Vuong (right) stars in the comedy written and directed by himself, a part of the series Tết Vạn Lộc (Tet with Prosperity). Photo courtesy of the artist
Tết Vạn Lộc is a combination of music, dance and comedy. The show was held early this month at the National Convention Centre. Now Vuong broadcasts the programme on his YouTube channel to treat people who weren't able to buy tickets. VNS

The Vietnam Drama Theatre is debuting its first musical drama in co-operation with South Korean Acsan Theatre in Hanoi.

A web drama series on love and family issues starring famous actors including comedians in HCM City will be released on YouTube next week.