A web series on People's Artist and theatre actress Le Thuy, a star of cai luong (reformed opera), has been released on YouTube to mark the artist's 40-year career.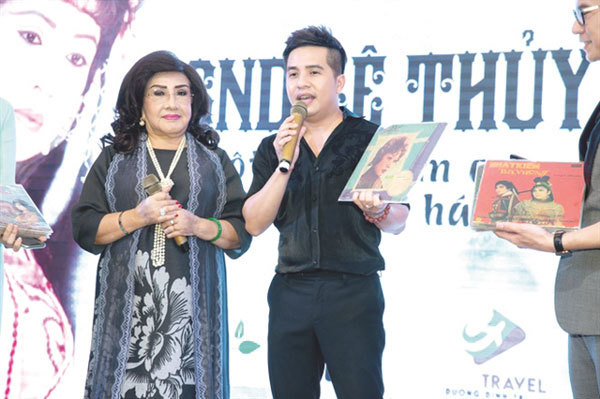 People's Artist and cai luong star Le Thuy (left). Her career is featured in the web series Hồi Ký Một Kiếp Cầm Ca - Sinh Ra Để Hát (Memoirs of a Performer - Born to Be on Stage), which has been released on YouTube to mark the artist's 40-year career. Photo courtesy of the producer
The film Hồi Ký Một Kiếp Cầm Ca - Sinh Ra Để Hát (Memoirs of a Performer - Born to Be on Stage), written and directed by Dinh Tri, features the career of Thuy, one of the region's leading performers in cai luong.
The work includes 32 episodes and highlights the artist's devotion for cai luong and her important role in developing southern traditional theatre between the 1970s and 1990s.
"Each 60-minute part of the film helps viewers, particularly youth, learn more about cai luong and the art form's development in Vietnamese theatre," said Tri, the film's director. "I learned about cai luong by watching more than 200 CDs and DVDs featuring Thuy."
Born in 1948 in a farmer family in Vinh Long Province, Thuy (real name Tran Thi Le Thuy) began her career when she was a child.
She learned the art from actors Nam Truyen and Tam Den before working as a prompter at the Tram Vang Troupe in Dong Nai Province.
In 1963, she became a bright star after playing a leading role in Bẽ Bàng Duyên Mới (Love Story) staged by the Kim Chung Theatre in then Sai Gon, now HCM City.
She performed leading roles in hundreds of plays, working with veteran artists Minh Phung, Minh Vuong and Diệp Lang, all gurus of cai luong.
After 1975, she worked for the HCM City Music and Dance Theatre. Her voice and dance skills left a strong impression on audiences.
In 1984, she and her colleagues, People's Artists Bach Tuyet and Ngoc Giau, were invited to perform cai luong in France. Their performance won plaudits from many overseas Vietnamese and foreigners.
In the 1990s, Thuy travelled around the region to stage free cai luong for people living in remote areas.
Since 2005, she has performed in live shows and traditional art programmes, launched by the HCM City-based Tran Huu Trang Cai Luong Theatre, with the aim of attracting young people back to the theatre.
Thuy has performed in more than 300 plays, videos and films, including famous historical works Tô Ánh Nguyệt (Ms Tô Ánh Nguyệt), Đời Cô Lựu (Life of Ms Lựu) and Câu Thơ Yên Ngựa (Poetry and Saddle).
She won several top prizes at national traditional theatre competitions and festivals, including the Golden Medal for Best Theatre Actress in 1964 at the Thanh Tam Awards (now Tran Huu Trang Awards presented by the HCM City Theatre Association).
She was honoured as a People's Artist by the government in 2012.
"My life is devoted to cai luong. I hope young people will love the art after watching Hồi Ký Một Kiếp Cầm Ca - Sinh Ra Để Hát," said the 71-year-old. VNS

Veteran artist Minh Vuong of HCM City was awarded the title People's Artist by the Prime Minister in recognition of his great contribution to cai luong (reformed opera), a 100-year-old traditional theatre genre of the southern region.

Five private troupes specialising in cải lương (reformed opera), a traditional art originating in southern Vietnam, in the Mekong River Delta region are offering mobile shows for residents in rural areas.

A two-day programme featuring cai luong (reformed opera) will be held on Book Street in HCM City on Saturday.