Weightlifter Pham Thi Hong Thanh put in a sensational performance to take a gold medal in her Southeast Asian Games debut yesterday in the Philippines.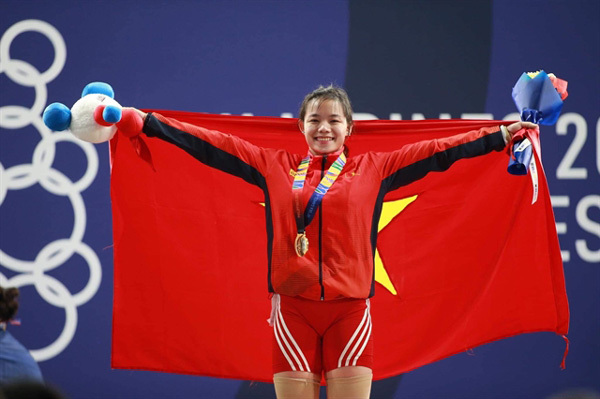 Pham Thi Hong Thanh celebrates her victory in the women's 64kg weightlifting event at the 30th SEA Games in the Philippines on Tuesday. Photo plo.vn
Thanh won the women's 64kg weightlifting event where she faced a strong rival in Elreen Ann Ando of the hosts.
It looked like curtains for Thanh after she only lifted 90kg in the snatch compared to Ando's 98kg.
In the clean and jerk, Ando lifted 115kg, giving her a total lift on 213kg, leaving Thanh needing to lift 124kg.
Thanh was successful with her first try at 107kg but needed 17kg more in her second attempt.
After minutes of discussion, Thanh and her coaches decided to take on 124kg and she failed.
With one attempt left, the Vietnamese team felt the tension with the Filipino supporters cheering in the stands.
Thanh came out to the stage and was encouraged by her coaches and teammates, helping her lift the 124kg needed to snatch gold from Ando's hands.
TV footage showed Thanh's beaming smile while Ando collapsed due to disappointment.
"It's difficult to explain my feelings. It was great that I could make an unbelievable lift to come from behind for a victory," said Thanh.
"It was due to my determination when having the chance to take part in this big competition for the first time and of course great support from our team," said the 20-year-old.
Thanh's gold is the fourth of for weightlifting team who have successfully completed their target of three gold medals with events to spare.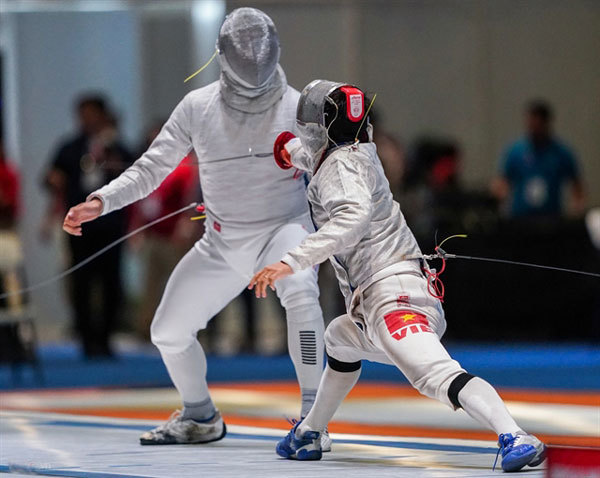 Vu Thanh An (right) attacks his rival during the final of the men's sabre event. Photo zing.vn

In fencing, defending champion Vu Thanh An grabbed a gold after beating host player Christian Jhester Concepcion in the men's individual sabre event at the World Trade Centre in Manila.
"It was a difficult match because it was just a hair's gap between win and loss. And I received unfair decisions from referees but I tried to do my best and finally took a win," said An who will continue competing in the team event.
"I hurt my knee at the beginning of the tournament and it affected me all day. I hope I can take my form to the team event," said An, who will present his gold to his pregnant wife at home.
In wushu, Nguyen Thi Trang and Bui Truong Giang took two golds in the sanda (combat) competitions.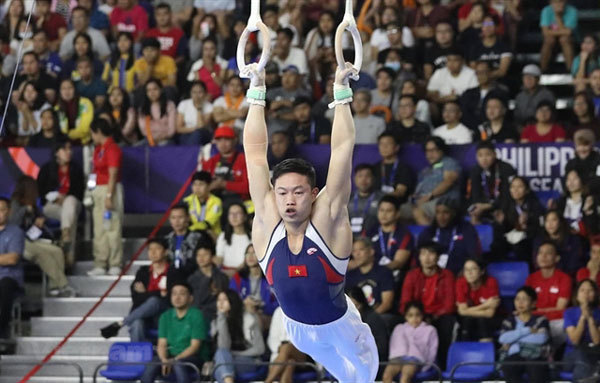 Gymnast Dang Nam performs in the men's ring event. Photo vietnamplus.vn

Tran won in the women's 65kg while Giang triumphed in the men's 60kg class.
Later, the gymnastics team grabbed their first gold when Dang Nam won the men's ring.
He overcame Filipino 'gymnastic prodigy' Carlos Yulo and Arifin Dwi of Indonesia.
His teammate Do Thi Ngoc Huong secured a silver in the women's uneven bar, while Dinh Phuong Thanh was second in the men's pommel horse and Do Thi Van Anh got silver in the women's vault.
After three days, Vietnam have 23 golds and stand in second place.
The Philippines are on top with 47 golds. Malaysia are third position with 17. — VNS

Vietnam earned 8 more gold medals on December 3, the third official competition day at the SEA Games 30 which is going on in the Philippines, keeping its second place in the tally.

The Vietnamese delegation set off on December 3 for their medal-seeking journey at the ongoing 30th Southeast Asian Games (SEA Games), with Wushu martial artist Pham Quoc Khanh snatching the first gold medal on the day.

The thrilling 2-1 victory over Indonesia by the men's U22 football team and a gold medal in the women's over 60kg arnis category concluded a successful day on December 1 for Vietnam at the 30th Southeast Asian Games (SEA Games 30).