Following their meteoric rise in China in the AFC U23 Championship in January 2018, many of the silver medal-winning players have become stars for club and country.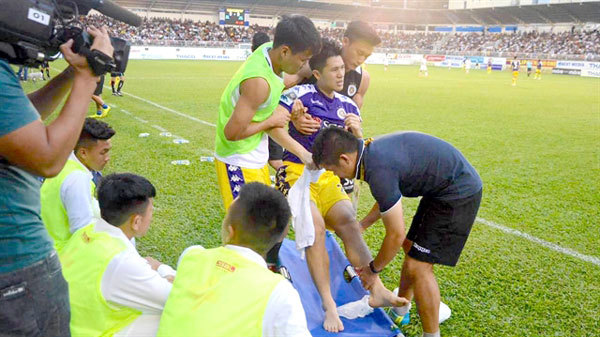 Midfielder Tran Dinh Trong met knee ligament injury in the V.League last year. Photo thethaovanhoa.vn
However, of the 23 players in the squad, in just little over two years since, eight of them have faced lengthy spells on the sidelines due to ligament injuries.
Fullback Vu Van Thanh of Hoang Anh Gia Lai (HAGL) was the first to catch the injury bug and missed the AFF Cup 2018 due to a knee ligament injury. It took many months for him to recover after surgery in South Korea. Thanh has since returned to play in the V.League 1 and the national team.
During the run to the AFF Cup title, Nguyen Van Toan's sustained a knee ligament injury in training before a match. However, the forward's injury was less severe than his HAGL teammate and he soon returned in the Asian Cup, playing four games.
The next players were Pham Xuan Manh and Phan Van Duc. They were injured during preparations for the 2019 V.League season with Song Lam Nghe An (SLNA). Manh recovered early and played 15 matches for his club last year, but Duc missed the entire season.
Tran Dinh Trong, Nguyen Trong Dai and Luong Xuan Truong have also all suffered severe injuries. The latest victim was Do Duy Manh of Hanoi FC who suffered a knee ligament injury in his side's Super Cup win on Sunday.
All suffered knee injuries, bar Manh who damaged ankle ligaments.
Thanh is still trying to improve his fitness at HAGL, coach Chu Dinh Nghiem of Hanoi isn't ready to declare Dinh Trong fit yet, Duc doesn't dare to train too hard before the new season with SLNA, while Xuan Manh and Truong are still recovering.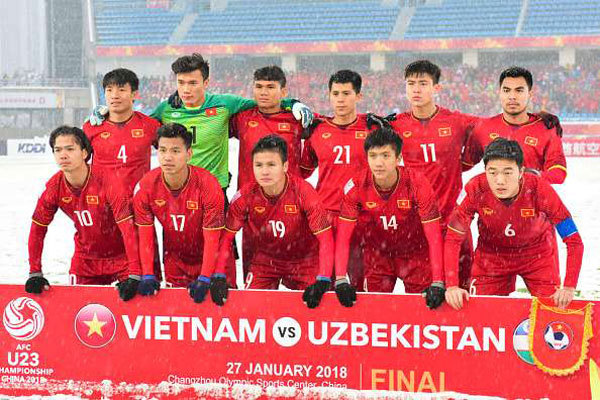 Vietnam U23 team at the AFC U23 Championship 2018. Photo goal.com

While ligament tears can occur for a variety of reasons, the question is why have this group of U23 players been so injury-ridden?
The two most obvious answers are playing too often and a lack of adequate medical care to allow them to keep up with such a busy schedule.
Too many competitions
Although Trong hasn't recovered from his knee ligament injury suffered in the domestic league last year, he still played in the AFC U23 Championship 2020 in January. His club coach, Nghiem of Hanoi, expressed his concern that his player would suffer for returning to the pitch too soon.
Except for Xuan Manh, before being injured, most of them played a significant amount of time for the senior national team, junior teams and their club sides.
Their success in China put the young players first on many teamsheets at the domestic and international level, including the Asian Games 2018, AFF Cup 2018, Asian Cup 2019, Southeast Games 30, qualifying and finals of the AFC U23 Championship 2020 as well as the World Cup 2022 qualifiers.
Club-level medical conditions subpar
Sports science, including medical care, is considered an important part of helping professional athletes compete at a high level.
In Vietnam, most clubs only have one or two specialised doctors alongside poor facilities, though now several teams in the top-flight V.League 1 have physical coaches and rehabilitation experts.
Viettel are one of the rare teams that have physical coaches and rehabilitation experts and their players rarely have health problems. Defending champions Hanoi also have a physical coach.
"We need to improve the quality and quantity of health experts at the grassroots level. Nutrition and medical care should be as important as signing new stars," former doctor of the Vietnam U23 team Truong Cong Dung told thanhnien.vn.
"For example, if we spend money to buy a good car we will need maintenance, cleaning and oil changes regularly to run the car smoothly," said Dung.
"In European professional clubs, the percentage of doctors and rehabilitation experts with players is almost 1-1. In Vietnam, from the north to the south, there are only a few clubs that employ their service. I appreciate that HCM City FC and Viettel have hired physical experts and foreign doctors," Dung added.
According to former coach of the U19 team Hoang Anh Tuan, most clubs in the country don't invest in three key issues: nutrition, fitness experts and specialised doctors.
"In sports, injuries are unavoidable but injuries can be limited if precautionary steps were taken. Players do not eat enough nutrients while their bodies must have nutrition for top performance. Poor health conditions can easily lead to injuries. Teams may spend a lot of money on foreign players but do not spend money on fitness coaches and specialised doctors," said Tuan. VNS

Park Hang-seo is facing a crisis in Vietnam's defence ahead of the 2022 World Cup qualifying match against Malaysia at the end of this month.