World-renowned bubble maestro Fan Yang has opened a $3 million entertainment center for children in Hanoi, named "Bubble World".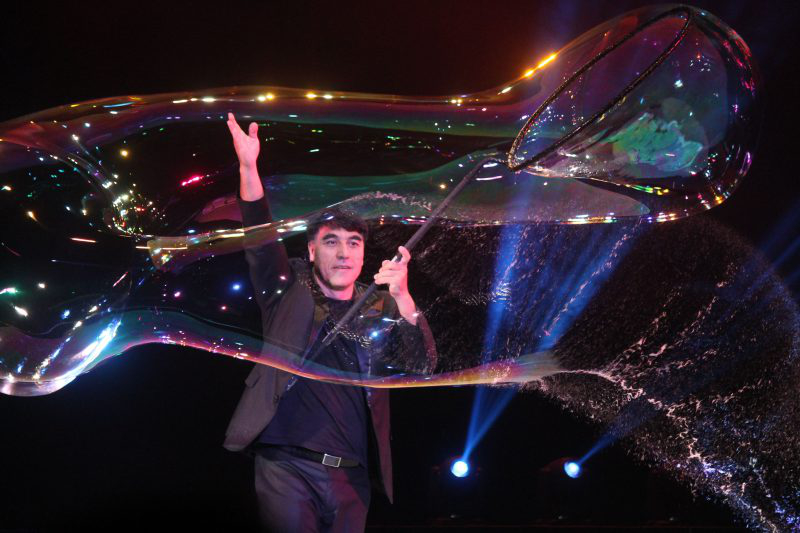 World-renowned bubble maestro Fan Yang will return to Vietnam on the occasion of the upcoming National Day (September 2) holiday. 
On this occasion, the Vietnamese-born Canadian artist will return to Vietnam with unique performances to dazzle spectators during the upcoming National Day (September 2) holiday.
This year, he will give performances at 'Bubble World' that was built by himself and Dong Do Show Company at Times City Trade Centre in Hanoi.
Fan Yang's Bubble World stage in Hanoi, covering 2,500 square meters, hosts bubble shows at 10 a.m., 3 p.m. and 7:30 p.m. every Friday, Sunday and Saturday, starting from August 23.
The programme will be divided into two parts: the lively scenes for children and Fan Yang's bubble world.
The artist has donated gifts to disadvantaged children and organized many free shows at centers for abandoned and disabled children in Vietnam.
The Vietnamese-born Canadian artist has earned international acclaim as he can create giant bubbles in strange shapes, transforming simple bubbles into beautiful pieces of art.
Fan Yang was born in his mother's hometown of Hai Phong in 1962. His family moved to Yugoslavia when he was two years old.
The artist is living in Canada with his Vietnamese wife and two children. Although Fan Yang has two main stages in New York, the U.S., he usually performs around the world. His "Gazillion Bubble Show" features mind-blowing bubble magic, spectacular laser lighting effects, and soapy masterpieces. 
Holder of 19 Guinness World Records, Fan Yang has been acclaimed for transforming a simple bubble into a beautiful piece of art, pioneering bubble media as a performing art. His 18th Guinness World Record was won for putting 181 people in a bubble at Science World in Vancouver, Canada.
He has also appeared on Oprah Winfrey, David Letterman and Ellen DeGeneres' shows, a Cirque du Soleil special and "Fox & Friends".
Thanh Van