Overseas Vietnamese poet Ha Doan Linh returned to Vietnam to launch her poetry collection Khi Đêm Nở Rộ Như Hoa (When Night Blooms Like Flowers).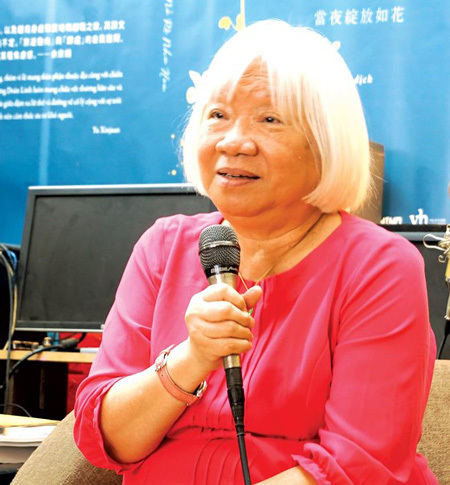 Overseas Vietnamese poet Ha Doan Linh. Photo sggp.org.vn
Linh went to study in Taiwan in 1969. She has taught Vietnamese culture and language at Tam Kang University's Southeast Asia Research Institute since 2007.
Reporter Quynh Yen, from Sài Gòn Giải Phóng (Liberated Sài Gòn) newspaper talks to her about her work.
You are popular in Taiwan but your name is unfamiliar in Vietnam. How do you feel when your poetry book is introduced here?
This is the first time I have had the opportunity to introduce a book of poetry in Vietnam. In 1994, I had my first trip back to the country then I returned once or twice a year. I looked forward to introducing my poetry to Vietnamese readers but I have not had a chance until now.
The biggest problem is the translation, because I often move to many places so I don't have time. Last year, translator Truc Ty translated my work. I was really touched because I had the intention but I could not do it. Now I have friends to help me.
The poetry collection Khi Đêm Nở Rộ Như Hoa is the result of fellowship between friends.
The poetry collection is very emotional and moving. What inspired you?
I have a hobby of travelling. I have been traveling and living in many places but there is no place to give me the feeling of being home. These things I often write in my poetry.
I was born in the southern province of My Tho. Every time I return to Vietnam, I visit my homeland but my family is no longer there.
I visit and look at the old house that used to be mine. My mood is like a lyric of Li Bai, "cúi đầu nhớ cố hương" (bow down to remember the homeland).
Although living and having a child in Taiwan and going to school in France, my hometown is not in these places.
Sometimes, I find myself like sand drifting day after day. I hope the newly released poems will help me to calm down. Sand will not drift and I will find peace of mind.
Is language merely a means of expressing your thoughts and feelings?
For me, language or text is not only a means of expressing thoughts and emotions. For those who are in exile and often moving, language is also a good way to see the light in lonely and sad moments.
I always speak out or use a pen to write what I think not only for literary work but also for my own feelings and other people.
These people may be next to me or on the other side of the road or on a passing train who I make eye contact with.
In these moments, I use all languages that I know including Vietnamese, Chinese, French, English, Arabic, German, Italian and Spanish to record the thoughts and feelings.
How do you feel when you write in Chinese?
My maternal grandfather is a Chinese Hakka and my grandmother is Vietnamese. When I was small, I started reading poetry, novels and many literary works by famous Chinese writers in the 1930s.
At aged seven and eight years old, I read all the books in the school's library and the books and newspapers published in Hong Kong that my father bought.
Writing in Chinese is a natural process.
You are one of the rare female poets in Taiwan to write about war and the American war in Vietnam in particular. What do you think about this topic?
In Taiwan, perhaps I am the only female poet to write about war. There are male poets who do but female poets do not.
I stopped writing for 10 years because every time I thought about the past I could not write.
At these times, I often shed tears. I used to write about war. There are many wars in the 20th century such as the First World War, the Second World War, the American war in Việt Nam and Lebanon war.
I write many poems about war because I don't understand why people have no experience or lessons. There are too many wars in the world, why don't we remember about suffering.
Lately, I write more about food and culture because I often travel a lot and eat new things. I have experiences and inspiration to write poetry.
Do you plan to translate all your works into Vietnamese?
Hopefully I can translate the best poems into Vietnamese and French in the future. Of course, it must be poems worth translating, not everything because sometimes there are poems that I don't really like.
VNS