A romantic story featuring life of a French man in Hanoi written in Vietnamese will be published by Nhã Nam Culture & Communications JSC next week.
Marko Nikolic loves landscapes in the northwest region of Vietnam. — Photos courtesy of Marko Nikolic

Author of Phố Nhà Thờ (The Church Street), Marko Nikolic, from Serbia, has been living in Vietnam for three years and spent the last year writing the novel.

"I decided to write the story due to two reasons," he told Việt Nam News. "Firstly, I want to tell the truth about the life of expats in Hanoi. I described western community in an honest and realistic way. I share what Vietnamese haven't known or misunderstood about us, what we dislike in Vietnam.
"The novel can be considered a story on Hanoi. My second reason to write is to share my feelings: fears, efforts, challenges, love and selfishness. I wrote to find answers for important questions in our life: why we lose, why we are not completely happy…I wrote to find out solutions and share them with audiences," he said.
According to Nguyen Hoang Dieu Thuy, Phố Nhà Thờ's editor, the novel is interesting as it displays a hot, wicked, witty and serious French man in Vietnam.
"A romantic story," she said, "with profound social observations and a struggling journey to seek for the self of the main character. All of these have been described in a natural and emotional Vietnamese language literal style of author Marko Nikolic."
Nikolic called his novel a piece on modern Hanoi. Through 40 chapters, he described various landscapes in the city – street corners, lanes, cafés with good views and green parks.
"I love Hanoi and I found Hanoi has a soul," he said. "The city seems to go along with the main character Nicolas through his emotions, ups and downs in his life as if the city had the capability to sympathise with him."
Nikolic said the book was inspired from his own experiences.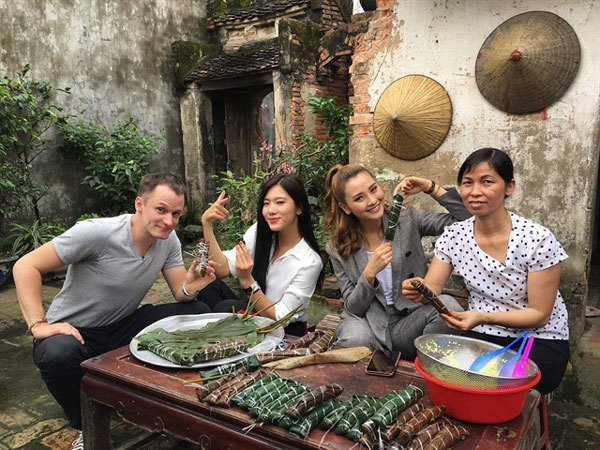 Marko Nikolic learns how to make traditional dumpling, banh tet (cylindical sticky rice dumpling with pork) with his friends.

"The novel is like a jigsaw painting, I collect a series of small pieces in my life – people, events, words and images – then put them together," he said. "Nicolas is me in the past. He acts, thinks, make the same mistakes as mine in the past."
Explaining why he chose the title Phố Nhà Thờ, Nikolic said the Cathedral of St Joseph in downtown Hanoi entranced him when he first got to the city.
Nikolic published two books in Serbia in 2006 and 2011.The first, a novel on psychology, was written when he was 14 while the second depicts his 77-day journey to eight Middle Eastern countries, which was completed when he was 20.
He has two master's degrees, one in French teaching Belgrade University, Serbia and one in French language and culture from Latvia University. He can also can speak four foreign languages, namely English, French, Russian and Vietnamese. Nikolic now teaches English in Hanoi.
As an introvert, Nikolic found his own way to learn Vietnamese – reading books. He read 50 books in Vietnamese by noted Vietnamese writers like Thach Lam, Ma Van Khang, Nguyen Nhat Anh and Phuong Mai before writing the novel.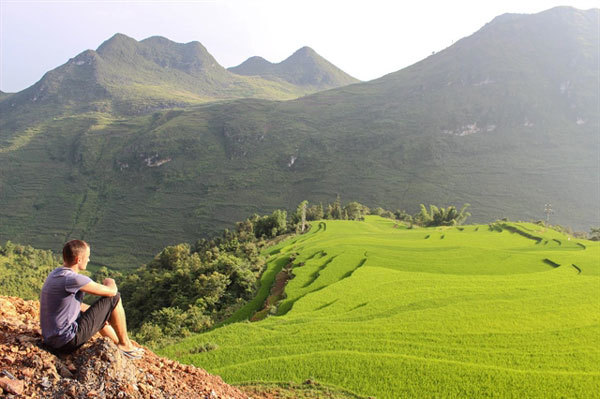 He has been to more than 70 countries in the world.

"I hope Vietnamese young people find interest in books in the time of technology and social networks," he said. "Reading brings us a lot of benefits including knowledge, understanding, enriching stock of vocabulary, developing imagination, reducing stress. It brings us a difficult-to-describe happiness."
Nikolic revealed the process of publishing the book also taught him big life lessons.
When he finished the book, he sent the draft to Nhã Nam but they refused as the draft was not good enough, with too many simple details and a lack of highlights.
"I was so disappointed that I lost sleep and did not want to eat," he said. "I could have sent it to other publishers but I did not do that. I decided to revise it."
Nikolic then gathered feedback from friends on his draft, hid himself in remote mountains for few days to think carefully about the story and fix its weak points.
He then spent more than two months revising the story. He even erased a third of the book to re-write.
Three months later, he sent the revised draft to Nhã Nam again and they welcomed it.
"I have to admit that I do not know how to write a status on Facebook, a short story or essay," he said. "I just know how to write a novel. I prefer to write very slowly, think twice. Writing short stories and writing novels require different skills and I do not have enough time and energy to withhold both. I decided to focus on novels."
Writing a novel is difficult, writing a novel in a foreign language is even more challenging.
"I still decided to write as I know the more obstacles, the bigger reward!" he said. VNS
Le Huong