Young composer and music producer Hua Kim Tuyen is working on a music project called Seven Colours of Rainbow that reflects different facets of life and love.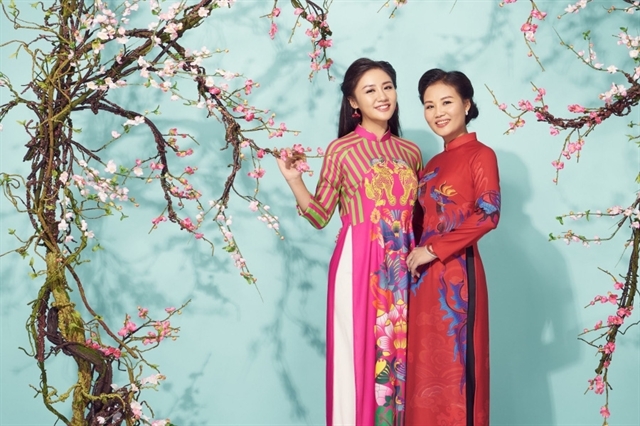 Composer and music producer Hứa Kim Tuyền invited Văn Mai Hương (left) and her mother to appear in his music project "7 Sắc Cầu Vồng" (Seven Colours of Rainbow). Photo courtesy of the producer
"My team and I want to share different stories about life and humanity, not only love," said the 25-year-old Tuyền, who became known after competing in the reality talent show Sing My Song in 2016.
The project includes seven music videos with songs that contain melodies combining traditional Vietnamese music and pop music.
His latest song, titled Ước Mơ Của Mẹ (Mother's Wish), was released last weekend on music streaming service NhacCuaTui, atrracting 45,280 listeners.
Its MV has earned more than 163,000 views on YouTube.
The song has a gentle melody with moving lyrics about a mother who devotes her life to her children.
Tuyền said Ước Mơ Của Mẹ represents red. "Red is close to the heart. It reminds yourself of true love and connection among family's members. So I chose red for a story about mothers."
Tuyền invited singer Văn Mai Hương, a runner-up of the singing reality show Vietnam Idol in 2010, to sing his song.
"I burst into tears because I felt sympathy with the song's melody and lyrics," said Hương. "The song tells stories of not only my mom, but also other mothers."
The song was featured in short film Mẹ (Mother) by director Giang Lee.
The film is about a dynamic woman sacrificing her career and future to become a mother who has time to take care of her beloved ones.
The production stars veteran actresses Hồng Ánh, People's Artist Kim Xuân and Meritorious Artist Lê Thiện, and child actress Thảo My.
Tuyên said: "We want to spread a message that young people like us should know more about our mothers. We should love them more and appreciate what they have done for us."
Nguyễn Thanh Vy, a student at Lạc Hồng University in Đồng Nai Province, said: "I'm moved by the song's lyrics. My mom sacrifices her whole life for myself and our family. I love my mom so much."
Ước Mơ Của Mẹ is the second work in Tuyền's project.
The first song titled Nếu Một Mai Tôi Bay Lên Trời (If I Fly to Heaven One Day) tells stories of child patients who suffer from congenital heart disease.
"The song represents blue, aiming to encourage people to live optimistically and treasure their life," said Tuyền.
Its video attracted over 2.5 million views on YouTube within two months after release.
Tuyền's project is expected to be completed early next year. VNS